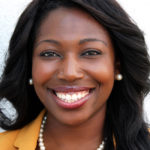 By Yewande Akinleye, 2014 ProInspire Fellow
According to Merriam Webster the term "movement" means the act or process of moving people or things from one place or position to another.  According to the very same source, to "build" means to increase the amount of (something). If we were to create a hybrid definition based upon the phrase "building a movement," we'd generate something that states "to increase the act or process of moving people from one position to another".  A provocative definition that triggers activation and is quite fitting for the social sector. On Thursday April 9th, the guest speaker for our ProInspire Fellows Training in Washington, DC was Devi Ramachandran Thomas, Director of United Nations Foundation's Shot@Life campaign. Devi spoke about "Building a Movement," and shared lessons from the work of Shot@Life.
On your mark….
"One position to another", this part of the definition is probably the most important. So it is only fitting that Devi Thomas began the presentation with entertaining anecdotes from her career journey from "one position to another." For a social sector professional, anecdotes are a valuable tool. We are a community of people, not just titles, and establishing a connection to someone comes from hearing that they too understand the beauty of a journey. Thomas had always had an affinity for international relations and previously did communications for the Initiative for a Competitive Inner City, and later worked as a senior consultant developing cause marketing strategies at Cone Communications. These positions gave her the experience that eventually brought her to the United Nations Foundation to launch the Shot@Life initiative.
Get set…..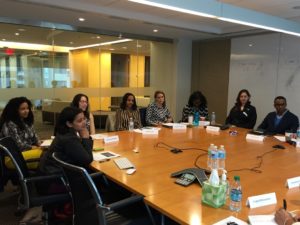 The Shot@Life campaign started in 2010 and educates, connects and empowers Americans to support vaccination  as one of the most cost-effective ways to save the lives of children in developing countries. Devi was brought in not just to give this initiative life- but to set it up to grow exponentially , promote sustainability and most importantly scale of impact.  Having worked with a pioneer in the field of cause marketing, Carol Cone, Devi had a good sense of what this campaign needed in order to be able to deliver on its goals of being a successful movement. There are four key phases that must happen.
1) Define impact.
2) Determine a call for what?
3) Define and create a community
4) Share your impact
Devi explained that the process was initiated  by asking vital questions like "what questions will resonate with people?" "What stirs your audience to act?" Who are competitors you want to look like". Once those initial questions  were completed you cannot  just take the data and act but you have to make it connect with the target market. Thus came the introduction of the term "social math". Probably the most innovative concept to hit my ears in the presentation was this concept of humanizing data through social math. Essentially what this means is to take a number and equate it to the lives of the audience. How incredibly engaging is that!? If I knew how many Starbucks macchiatos could save lives of children in the world today, I'm instantly more likely to understand the problem and subsequently act to solve it.
While listening to this presentation I began to feel my personal position shifting. I was moved, but what now? What do you do once you have the attention of your audience? This struggle is what Thomas described as the most difficult. Figuring out what action is necessary for  achieving impact. It was at this point where Thomas introduced the inverse AIDA chart.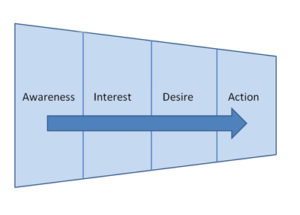 To best explain the reasoning for this approach, I will share the famous quote that Thomas also used in her presentation. "Tell me, I forget, show me, I remember, involve me, I understand." To build a movement or to increase the act or process of moving people from one position to another, is in its very essence about the power of action. Which means, if you really want to capture your audience and move them from one position to another you must call them to act! This was by far the biggest "ah ha" moment of the presentation. Recruit champions, seek the evolution of recognition into ownership and then you have your brand ambassadors and thus begin your movement.
The presentation by Devi Ramachandran Thomas is one of many amazing presentations I've experienced while being a fellow at ProInspire. It highlighted the very essence of what this industry is about. It's not just about evaluating data that indicates something is not right in society. The social sector is about building movements, calls to action, and doing something.  Leroy Hood wrote "Don't underestimate the power of your vision to change the world. Whether that world is your office, your community, an industry or a global movement, you need to have a core belief that what you contribute can fundamentally change the paradigm or way of thinking about problems."
GO!!!!!