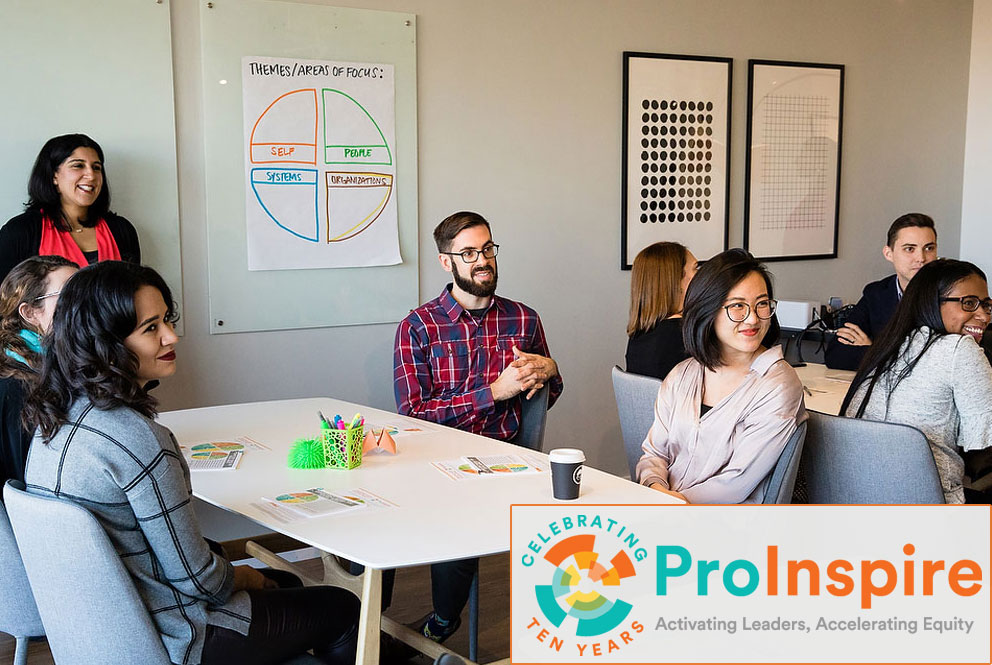 This year marks a big milestone in ProInspire's story, as we celebrate 10 years of supporting leaders at all levels and strengthening organizations in the social sector. Founder and CEO Monisha Kapila launched ProInspire with the ProInspire Fellowship in 2009, to address structural barriers to working in the nonprofit sector and create pathways for emerging, diverse leaders.
Our scope has since expanded beyond the pipeline, and our work with almost 500 social sector organizations and over 3,000 leaders at all levels has given us a deeper understanding of the leadership opportunities and challenges facing our sector. As we reflect on where we've been and consider what lies ahead, we recognize that leadership and equity are key to the systems change needed to maximize social impact. We're excited to use this moment to pivot our organization toward this reality with an updated theory of change, strategies, and branding; to offer learning opportunities and a Summit on leadership, equity, and the future of social impact work; and to celebrate all we've accomplished together.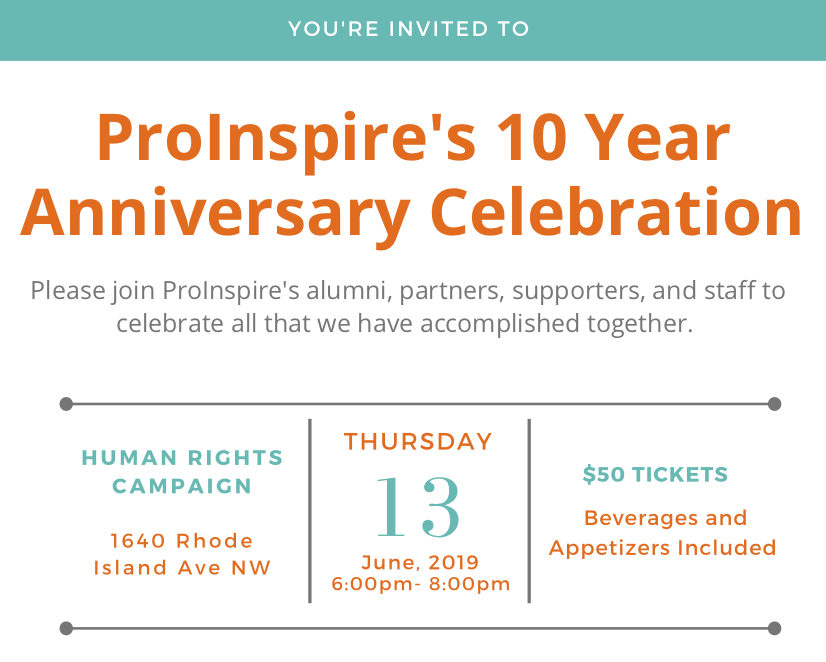 Please join ProInspire's alumni, partners, supporters, and staff to celebrate all that we have accomplished together! The celebration will take place shortly after The ProInspire Summit on Thursday June 13th from 6:00- 8:00pm. Anyone who attends the Celebration is also welcome to join for the Social Hour between the Summit and the Celebration (from 5:00- 6:00pm).
Celebration Logistics
Tickets
Tickets are $50 and include beverages and appetizers.
Date and Time
Thursday, June 13, 2019
6:00pm- 8:00pm
Location
Equality Center at Human Rights Campaign
1640 Rhode Island Ave NW
Washington, DC 20036
(by 17th St NW and M St NW)
Calendar of Events
We hope you'll join us throughout 2019 as we celebrate our 10 Year Anniversary. Check out the listing of events below and be sure to register and/or save the dates. You can also sign up for our mailing list to receive invitations and event-specific information.
10 YEAR ANNIVERSARY EVENT
DATE
ProInspire Community Day of Service
Jan 21
New website launch
Q1
Prolnspire's official 10th anniversary date
Feb 26
Accelerating Equity webinar: In this free virtual learning session, participants will learn about key research findings from Equity in the Center's Awake to Woke to Work: Building a Race Equity Culture publication, management and operational levers that can shift organizational culture, and the role each of us can play in building a Race Equity Culture.
Register Now
Mar 15 12pm EST
SF Bay Area Anniversary Celebration RSVP
Mar 27
Fundraising campaign kickoff
Q2
A New Tool for Activating Leaders webinar: In this free virtual learning session, we will introduce ProInspire's new Competency Model for Social Impact, a framework for professional growth that centers equity in leadership at all levels. We will share the context for the Model and preview its content and application. Participants will explore key competencies and how to measure growth in them, as well as consider applications in individual work and in organizational contexts.
Register Now
May 10 12pm EST
ProInspire Summit: Leadership, Equity, and the Future of Social Impact Work: Using the unconference format and a co-created agenda, this day-long convening will create space for participants to learn from each other about advancing leadership and equity now and to envision the future of social impact work. (located in Washington, DC)
Register Now
June 13
10-Year Anniversary Celebration (following the Summit, in Washington DC)
June 13
10-Year Impact Report
Q4