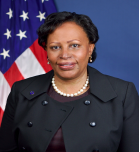 Daphne Jefferson
Deputy Administrator, Federal Motor Carrier Safety Administration (FMCSA)

Daphne Y. Jefferson was appointed Deputy Administrator of the Federal Motor Carrier Safety Administration (FMCSA) in February 2015. Prior to her appointment with FMCSA, she served as the Counselor to the Chief of Staff at the U.S. Department of Transportation (DOT) in the immediate Office of the Secretary (OST) from December 2013 until February 2015. Before that, she served as the Deputy Assistant Secretary for Administration for DOT. In this role, she provided leadership and oversight in the areas of human resources, security, acquisitions and grants, transportation and facilities, and space management. Previously she also served as the Associate Administrator for Administration for the Federal Motor Carrier Safety Administration (FMCSA) at DOT. As Associate Administrator, she provided executive oversight of acquisitions management, management services, human resource management, and training in support of the FMCSA mission.
Ms. Jefferson began her federal career with the Federal Aviation Administration (FAA). Over a 20-year period, she held positions of increasing responsibility within the Air Traffic Control Service, including managing air traffic control field facilities and serving as manager of the Meteorological Support Branch in Washington, DC. As Branch Manager, she was the Air Traffic organization's lead for aviation weather issues affecting the air traffic control system and managed the FAA's nationwide contract weather observation program.
Ms. Jefferson holds a Masters in Public Administration from American University and served as a Brookings Institution Legislative Fellow in the U.S. House of Representatives. She holds a Certificate in Leadership Coaching from Georgetown University's Institute for Transformational Leadership.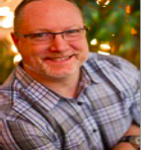 Colin McLetchie
President, Five Ways Forward
Because of his passion for and commitment to growth and development, in January 2014, Colin transitioned from his 20+ year corporate HR & Organizational Development career to fully dedicate himself to Five Ways Forward. A coaching and HR/organizational consulting firm, Five Ways Forward partners with individuals, managers, executives, teams and organizations to identify what success looks like and help them move forward to achieving that success – at work and in life.
Colin possesses a BA in Interpersonal & Public Communication and a Certificate in Leadership Coaching from Georgetown University, one of the world's leading programs. He is a Professional Certified Coach with the International Coach Federation and has certifications in The Leadership Circle Profile and Culture Survey, MBTI, EQ-i2.0 & EQ-i360 Emotional Intelligence Assessments, SOAR (Success through Observer-Action-Results), Lominger Voices 360 Assessment & Leadership Architect Competency Model, and others. He is also a Board Certified Polarity Practitioner with the American Polarity Therapy Association. During his corporate career, he worked deeply in the consulting, technology/software, and retail industries as an HR Business Partner, learning & development facilitator, adviser/coach, performance management, and employee relations and communication expert.
In his own words:
As a coach and consultant, I believe in lives worth living, leaders worth following and organizations worth being a part of, all of which create communities worth living in; I embody compassionate challenge in helping clients find their way forward. Whether I am working with an individual, team, or organization, I seek to listen deeply, provide meaningful insights, and partner effectively to move you forward toward achieving your goals and your success – however you define that. While providing compassionate support, I will challenge you to explore, grow, and move forward.
I am known for being wickedly intuitive, engaging, energizing, thoughtful, forthright, and deeply insightful. And I am honored and humbled by the opportunity to impact people, teams and organizations in real and powerful ways.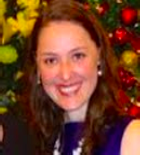 Margarita Rozenfeld
CEO, Incite International 
Incite International is an award-winning organization and leadership development company providing strategic planning, facilitation, training and coaching services to non-profit, corporate and public sector clients. Organizations that have benefited from Incite's services include Pew Charitable Trusts, Family League of Baltimore City, Melwood, Quality Trust, American Association of State Colleges and Universities, Washington Humane Society, NASA – Godard Flight Center, Environmental Protection Agency, Nuclear Regulatory Commission, Federal Transit Administration, and the World Bank.
Prior to launching her company in 2001 Margarita was a Management Consultant at Booz Allen Hamilton. She managed projects involving international environmental security tours, conferences, and workshops for participants from the United States, Latin America and Partnership for Peace nations. Margarita began her career at Chemonics International, primarily managing USAID and World Bank-funded projects in the Latin America and the Caribbean Division (LAC.)
Margarita holds a degree from James Madison University in International Affairs and Spanish and a graduate certificate in Organization Development and Change Leadership from Georgetown University. Her passion for international development, exploring different cultures and intent to change the world compelled her to travel, live and work overseas. Margarita has studied in Spain, worked in Honduras and the United States with international clients, and traveled extensively in Europe, Asia and Latin America. Her uniquely integrated educational, corporate, international, and coaching experience enables her to work with a diverse, multicultural clientele in English, Russian and Spanish.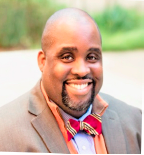 Ashley Stewart
Senior Talent and Leadership Development, Annie E. Casey Foundation 
Ashley B. Stewart is an executive coach and seasoned leadership development practitioner. Within his practice, Stewart is keenly focused on engaging leaders to explore and address their unconscious beliefs, biases and values that ultimately drive behavior and results. As a Senior Associate in Talent and Leadership Development at the Annie E. Casey Foundation, Stewart sets the learning architecture for leadership development programs that build the capacity of leaders to identify the large-scale changes they want to make, quantify how they will know the changes are being made and implement the strategies to achieve equitable and measurable outcomes. Stewart also shepherded a grant making portfolio that created and strengthened social sector talent pipelines for emerging leaders of color.
Prior to joining the Foundation, Stewart led the National Summer Learning Association's community influence strategy to leverage public and private resources in support of high-quality summer programming for low-income youth in Baltimore, MD, Grand Rapids, MI and Newark, NJ. A summer learning policy and programming expert, Stewart helped co-design NASA's Summer of Innovation project under the Obama Administration's Educate to Innovate campaign. He also served as a Foreign Service Officer with the U.S. Department of State and was a Speechwriter to U.S. Department of Education Secretary Rod Paige.
Stewart serves as board chair for the Leadership Learning Community, as an advisory member of the Andrew Young Center for Global Leadership at Morehouse College, the advisory committee of the Fund the People and on ProInspire's Equity in the Center Steering Committee. He served as the chair of the Heads Start Governing Board for St. Vincent de Paul of Baltimore from 2010 to 2014.
Born and raised in Southern Maryland, Stewart is an alumnus of Morehouse College where he graduated with honors in Psychology was inducted into the Psi Chi National Honor Society. At Harvard University's John F. Kennedy School of Government he earned a Master in Public Policy and was a Thomas R. Pickering Foreign Affairs Fellow. Stewart holds an Executive Certificate in Leadership Coaching from Georgetown University. He lives in the Baltimore area with his wife and daughters.