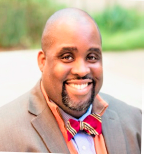 Ashley Stewart
Executive Director, Talent and Organizational Development at Baltimore City Public Schools
Ashley B. Stewart is an executive coach and seasoned leadership development practitioner. Within his practice, Stewart is keenly focused on engaging leaders to explore and address their unconscious beliefs, biases and values that ultimately drive behavior and results. He currently serves as the Executive Director of Talent and Organizational Development with Baltimore City Public Schools. In this capacity, Ashley provides leadership for system-wide organizational effectiveness and capacity building strategies that are fundamental to large-scale culture change and increased student achievement. He oversees performance management and professional learning to ensure that all 11,000 staff—school-based leaders; support and administrative personnel—are prepared with the full complement of skills and competences necessary to bolster student and school success.
Prior to joining the City Schools, Ashley was a senior associate of talent and leadership development with the Annie E. Casey Foundation where he designed and directed leadership programs that coached social and private sector leaders to more effectively leverage data, partnerships and authority to advance equitable opportunities and results for vulnerable children. Before that, Ashley managed the National Summer Learning Association's portfolio to strengthen public-private partnerships and increase investments in high-quality summer learning for low-income youth across Baltimore City, Grand Rapids and Newark. There he co-designed NASA's Summer of Innovation project. He also served as a Foreign Service officer in Mexico and the Dominican Republic with the U.S. Department of State and was a speechwriter to the Secretary of the U.S. Department of Education.
Stewart serves as board chair for the Leadership Learning Community, as an advisory member of the Andrew Young Center for Global Leadership at Morehouse College, the advisory committee of the Fund the People and on ProInspire's Equity in the Center Steering Committee. He served as the chair of the Head Start Governing Board for St. Vincent de Paul of Baltimore from 2010 to 2014.
Born and raised in Southern Maryland, Stewart is an alumnus of Morehouse College where he graduated with honors in Psychology was inducted into the Psi Chi National Honor Society. At Harvard University's John F. Kennedy School of Government he earned a Master in Public Policy and was a Thomas R. Pickering Foreign Affairs Fellow. Stewart holds an Executive Certificate in Leadership Coaching from Georgetown University. He lives in the Baltimore area with his wife and daughters.