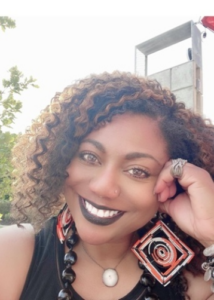 Cecilia Belser-Patton
Principle & Culture Curator, JUST Systems
Cecilia-Ananya Belser-Patton is the Principle and Culture Curator of JUST Systems, a systems change management, capacity and sustainability building consulting firm that specializes in Trauma Informed & Restorative Practices, specifically, REDI+A/B–Race, Equity, Diversity, Inclusion + Accessibility Development & Belonging & JEDI+A/B–Justice, Equity, Diversity, Inclusion + Accessibility Development & Belonging ; Restorative and Social Justice framework and implementation, leadership development and strategic systems change. As a veteran educator, her core compass in which she views the world is a strong conviction in restorative practices, racial and transformative justice, educational and health equity and social justice. JUST Systems provides lectures, workshops, organizational development, transformative leadership coaching, and grassroots strategy development and coalition formation designed to build equity and create systems change.
As the Director of Leadership Development for Alive & Well Communities, Cecilia is committed to the Social Emotional Wellness of all stakeholders, and applies these practices through a Trauma Informed and Restorative lens. She advocates strongly for everyone's ability to empower and advance themselves through awareness, organization, mobilization and action. An educator, strategist, organizer, lean startup/design thinking entrepreneur and professional development facilitator, she advocates for her clients values that are mirrored with their organizational structure.
An active member of The Cultural Competency Collective of Kansas City, as well as a member of its Leadership Team & Planning Council, Cecilia-Ananya is also an active citizen volunteer with the Racial Equity Institute KC Project, funded by the Kauffman Foundation. She is President of Uzazi Village's Council of Elders, and is the Diversity and Inclusion Chair of Women In Technology and board member of LatinX Education Collaborative,  Communities In Schools-KC and Black Archives of Mid America. Cecilia is MOST proud of the work that she does with Kansas City youth, as an advocate, volunteer and Steering Committee President of Anytown KC, a youth leadership development institute.  In her very little spare time, she loves long nature walks, ANYTHING to do with animals, especially her beloved menagerie at home, where she & her husband Paris create community and care in Kansas City and Detroit.