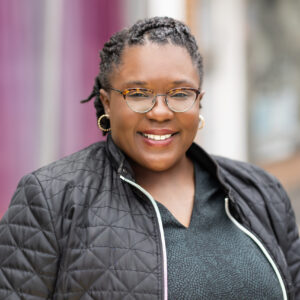 Jasmine Sudarkasa
Chief Program and Learning Officer
Jasmine Sudarkasa is the Chief Program and Learning Officer at ProInspire, a national organization that delivers programming and resources designed to activate social impact leaders with the competencies, confidence, and connections to accelerate equity. Her professional explorations have centered the embodiment of equity and empathy through leadership, which she demonstrates through a focus on strategic design, facilitation, participatory processes and value-driven culture building.
Prior to beginning at ProInspire, Jasmine served as the founding Executive Director of the Curve Foundation; while there, she established a cohort-based award for queer journalists and a grantmaking program to support joyful queer stories. This experience was deeply informed by her time as a fellow with the Effective Philanthropy Group at the William and Flora Hewlett Foundation, and as a senior trainer at Girls Educational and Mentoring Services (GEMS). Above all, she is a seeker, partner, astrology enthusiast and eldest daughter.
What is your favorite form of self-care?
I am a bath enthusiast. Epsom salts, candlelight, esoteric podcasts – that's the game. 
What is something that you're learning about? 
I am learning how to rest. That looks like yin yoga, walking slowly (a #struggle), standing up to stretch, and trying not to abandon my body when my mind is buzzing. It's difficult work, but it's important – I'm trying to explore the depths of calm as I have chaos. 
Why do you do what you do?
As children, learning bookends our lives. As adults, we're expected to learn on our own time or in secret, never betraying that we don't know what we're doing. That is exhausting, and the best workplaces I've been in have been places where people can struggle and become, in real time. I believe that people can heal themselves and each other when given the space, resource and opportunity to reflect on their own growth without judgment. I create and curate those spaces because they've been so valuable to me.