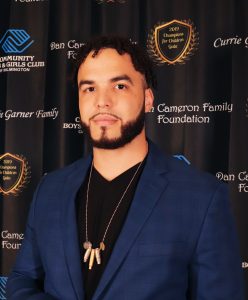 Nathanael Tyre Conway was born in Jacksonville, Florida, raised in Mississippi, escaped to Maryland, molded-in Louisiana, and settled for North Carolina. He approaches creativity from a behavioral perspective in that how we communicate is how we present ourselves, which heavily weighs our ability to digest creative content.
‍
He founded a creative content production agency, Blue Roll, to serve the community and bring attention to the Black community in Wilmington, NC. From tackling the Wilmington 1898 massacre to producing countless content projects in all aspects of equity (primarily socio-economic, health, race, and gender), he found a population of people who had a story they wanted to share.
The first video campaign he produced was with "Just Cut It Barbershop." Along with many others, this partnership propelled Just Cut It Barbershop to become one of the leading Black-owned barbershops in Wilmington, NC. Following this campaign's success, we provided countless total content production and social media consulting services to the "Dancin' in the Park" Initiative at Portia Hines Park by NHRMC Health Equity Department. After months of successful dancing Saturdays and over 500 yearly participants, the campaign shifted. We discovered that more than 25 years ago, Wilmington withdrew funding for the lights and restrooms at the park. We began focusing our efforts on bringing water fountains, bathrooms, and lighting to Portia Hines. In July of 2019, the City Council of Wilmington approved funding to give back what was taken from Portia Hines so long ago.
Since then, he's worked with the YWCA on the 34th Annual Women of Achievement Project, Champions for Children's Gala with Community Boys and Girls Club, Public and Charter schools, Wilmington's Chamber of Commerce, African American Business Council, and many others across the East Coast. The project he is currently the most excited about seeing to fruition is the Northside Food Coop, a grocery story we are working to bring to a food desert in Wilmington, NC.
Awards & Recognitions:
Certifications:
What is your favorite form of self-care?
I practice Martial Arts, or the complete opposite, vegging out on the couch with the family and a good movie. 
What is something that you're learning about?
Natively I'm an English speaker, so I'm forever sharpening up my foreign language skills.
Why do you do what you do?
I remember a time that no one would stick up for me. I'll never forget the feeling of that pit in my stomach that reaffirmed my lack of friendship due to my race (otherness) as a child. Then, life gave me one of my most vivid memories, the first time a friend came to my rescue and fought for me. Even if it's only one other person, I'd like to bring that memory and feeling of relief and love to others. 
What's a picture that means a lot to you and why? 
There isn't one picture for me, more like a collage of every photo from my childhood. My family and I were (and are) very close. I'd like to continue that picture gallery as we begin our own families.