About the ProInspire Fellowship in Digital Finance
ProInspire, a nonprofit focused on developing leaders for the world's greatest challenges, has launched a Fellowship in Digital Finance — a highly competitive, one-year program (with potential to be renewed beyond the first year) for established professionals with a minimum of seven years of professional experience, and expertise in fintech, digital finance, or financial inclusion.
The ProInspire Fellowship in Digital Finance is designed to help each fellow:
Engage in public service
Understand how the Federal government operates and how global policy and regulations are developed
Learn how to apply your technical expertise within the public sector
Expand your knowledge of the impact digital financial services can have on global poverty alleviation
Build capacity to excel and lead in the digital finance field
Gain exposure to industry leaders and innovators
Establish a network that will support professional growth and advance digital financial inclusion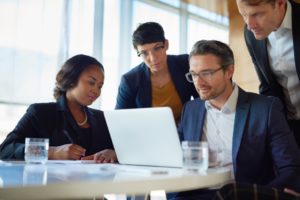 Fellows begin the 12-month program and join their fellowship cohort upon receiving their security clearance. Fellows spend the year working in targeted positions where, in partnership with their host agency, they will use their knowledge and skills in digital finance to help expand government capacity and advance policies and programs that will create opportunities for unbanked and underbanked individuals across the globe; open new markets; improve efficiency and financial integrity; strengthen the U.S. economy and security; or help counter terrorism and crime.
Throughout the year, fellows participate in inter-agency projects with other members of the cohort and learning activities with industry leaders. Fellows bring fresh thinking and best practices in digital finance to their agency and an eagerness to learn about and partner with the Federal government.
Participating agencies for the first cohort may include:
Millennium Challenge Corporation
Overseas Private Investment Corporation
U.S. Agency for International Development
U.S. Department of State
U.S. Department of Treasury
This is a highly competitive program, as only four or five fellows will be selected in the first cohort. Read more about the fellow role descriptions here.
Fellow Benefits
Candidates selected as Fellows by a participating U.S. Government agency will receive a stipend from ProInspire and as such will be uncompensated U.S. Government employees, sponsored by ProInspire. This stipend includes:
Compensation of $110,000/year (paid as a monthly fellowship award)
$1,000 per month for health insurance
Reimbursement of relocation costs (limited funds available)
While fellows will serve in full-time positions in their agencies, they will also have access to learning and professional growth opportunities. Fellows will have the opportunity to:
Apply for funding to support professional development, conference attendance, and other related opportunities during their fellowship year.
Interact with industry leaders from the ProInspire Fellowship in Digital Finance Advisory Committee and gain exposure to digital finance activities in their organizations.
Engage with world-class advisors from companies including MasterCard, McKinsey, PayPal, and Visa; and nonprofit thought leaders from Accion, Aspen Institute, Center for Financial Services Innovation, CGAP, and others.
The select group of professionals chosen as ProInspire Fellows in Digital Finance will undergo a once-in-a-lifetime experience and will emerge from the program with new skills, deeper experience, and valuable connections. They will gain a greater understanding of the workings of government and how it intersects with the nonprofit and private sectors on issues central to fintech and financial inclusion.
Ultimately, fellows will have the power to chart the trajectory of their careers, returning to the marketplace with expertise and insights that are in high demand and difficult to replicate. Whatever path they choose, fellows will be equipped to make a lasting impact.
Selection Criteria

The ProInspire Fellowship in Digital Finance is open to established professionals with at least seven years of work experience related to fintech, digital finance, or financial inclusion, drawn from the private sector, nonprofit sector (including NGOs, foundations, associations, and others), multilaterals, or academia.
Candidates must:
Be a U.S. citizen.
Have at least seven years of relevant work experience.
Be able to obtain a security clearance. The clearance will be processed by the host agency prior to the start of the fellowship.
Fellows are uncompensated U.S. Government employees subject to government ethics rules. Fellows are encouraged to consult with an ethics official in their assigned agency before assuming their duties.
Have expertise in fintech, digital finance, or financial inclusion, specific to the particular role requirements.
Fellows will be selected through the following process:
1. Interested individuals submit an application for the ProInspire Fellowship in Digital Finance. Applications will be reviewed on a rolling basis. ProInspire expects to be in touch with all applicants no later than August 31, 2017.
2. ProInspire reviews applications and conducts interviews. ProInspire will select applicants for interviews by phone, likely to occur in August 2017.
3. ProInspire selects candidates for the ProInspire Fellowship in Digital Finance. Applicants who best meet the job description requirements will be deemed "candidates." ProInspire will conduct reference checks for candidates, who will then be recommended to the participating agencies. At this stage, all applicants will be notified of their status.
4. Agencies interview candidates. Participating agencies will then review the candidates and interview their top choices. We anticipate that interviews will be completed by September 2017.
5. Agencies select their fellows. The U.S. Government will select 4-5 ProInspire Fellows in Digital Finance in the first year. Candidates who are not selected by an agency may be invited to a waitlist, to be considered should an opening arise later in the year and/or for future cohorts.
6. Candidates accepting contingent offers apply for security clearance. Federal agency security clearances usually take at least two months and sometimes as long as eight months or more.
7. Fellows begin work. Those passing security and ethics clearances will be contacted to work out a mutually agreeable date on which to start work, which in some cases could be within a few weeks after notification of security clearance. We anticipate fellows will begin work in late 2017 or early 2018.
Learn More: