Takeaways from American Express Leadership Academy 2.0 at the Aspen Institute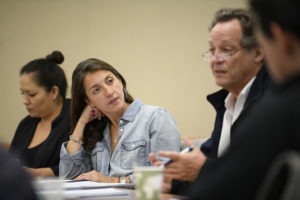 ProInspire had the chance to talk with alumna Maggie Goldstein Cooper (2016 Managing for Success SF cohort) about her experience at the 2018 American Express Leadership Academy 2.0 at the Aspen Institute: a Fellowship for Emerging Nonprofit Leaders.  Maggie works as the Head of Talent + Communications at Caliber Schools and was nominated by ProInspire and then selected by the AmEx/Aspen review panel as one of fifteen participants to attend this highly selective program. Read all about her experience below!
ProInspire: Tell me about your time at the Leadership Academy: what did you learn and discuss?
Maggie: The Leadership Academy was a week-long intensive course with text-based discussion at the core. Our group spent anywhere from 4-6 hours a day diving deeply into discussions of our readings. Our conversations were facilitated by top professors (from MIT Sloan School of Management and Columbia University) so the questioning was challenging and substantive. We explored existential questions about the way our countries and societies are structured, and more specifically, addressed our role as leaders within our respective fields and communities. In addition to our discussions, we had a few adventures and outings throughout Aspen, and had to orchestrate a performance of Antigone, which was a huge highlight!  
ProInspire: What were a few highlights from the week?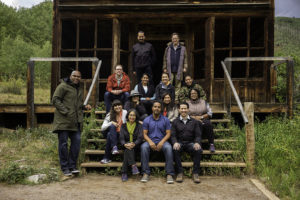 Maggie: The week in Aspen was an incredible opportunity to take a step back and reflect on the larger philosophical questions on leadership with a diverse and experienced group of leaders. Beyond any specific conversation or event, the number one highlight was the group of unique fellows. This group was diverse in terms of geography, sector, and race/ethnicity. This diversity was a critical part of every discussion, and it made me distinctly aware of my identity as a white female. I was the only white female in the cohort and one of 2 white fellows of either gender. Most of the articles we read were written by white, male authors. As our discussions evolved, our group was acutely aware of this representation gap (the authors of our readings did not reflect the people in the room). We questioned this context (the authors' race, gender, time period, and relative power) and recognized that many of our perspectives were most likely not taken into account — or not primarily represented or considered in the author's arguments or analyses. The metacognitive questioning of the experience overall was important and unique to our group.
A more detailed highlight was Antigone! A component of every Aspen Institute seminar is a performance of Shakespeare's Antigone. This was a creative and non-traditional way for our group to work together, process meaning, and come to an understanding of the message of the play. We had to determine casting and focus and then perform and act — something most of us do not do in our daily lives. In our performance, we decided to highlight issues of power, gender, decision-making, and pride — themes particularly relevant to our government and world today.  
ProInspire: What was your biggest takeaway from your time at the Aspen Institute?
Maggie: My 'aha' from the week connects to the diversity of our group.  As a white leader working in predominantly black and brown communities, it is easy to assume the white perspective as the majority and take it as the 'norm'. It is what is most often represented in the media, marketing, and literature — especially in certain parts of our country and in years past. In our Aspen conversations, we talked so much about how critical it is for nonprofit leaders to think about the perspective(s) not being represented or spoken about. We referred to this as "The Danger of a Single Story" (a great TED Talk by Chimamanda Ngozi Adichie). As we considered the perspectives from classical texts wholly and deeply to apply them to our work, we were constantly reminded and questioning what the perspective would have been if the authors were more diverse racially, by gender, religion, experience, and background.
ProInspire: You have talked about how the diversity of your Fellowship cohort positively impacted your experience; who were  the other 14 fellows?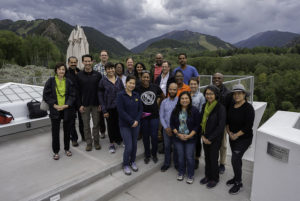 Maggie: The element that connected everyone in the room was that we were all leaders from the nonprofit sector. In addition to race/ethnicity, the sectors and geographical locations of my peers varied widely; including: education (like me), performing arts, indigenous rights, immigrant representation, community building in Chicago, food banks in the Midwest, conservation in the North American West, non-profit fellowships in the Bay Area, gender equality in Nigeria, and healthcare in Indonesia. I was so in awe of the group and humbled to be a part of it.
ProInspire: What discussion or reading had the biggest impact on you?
Maggie:  The readings as a whole were, for the most part, classic capstone readings (Plato, Aristotle, Machiavelli, MLK). Learning from the broadest range of readings on leadership and society had a profound impact on me and reminded me of the continued learning that I want (and need) to do. Of the less classical readings, The Ones Who Walk Away from Omelas by Ursula Le Guin, stood out for me. This story is about a utopian society that has one dark spot or flaw — which is what enables the rest of the society to remain perfect. Or rather, one inequality that enables the rest of the society to be perfectly equal and fair. The flaw is one young boy who holds all the pain and shame of the society. Everyone knows he exists; and he exists in order to hold all of this "perfect" society's pain and shame. The idea being: inequity has to exist in order for equity to exist. This story lead to robust discussions around questions like:  
What is our goal in this nonprofit sector? Is there an end goal of equity that is ideal and 'utopian'?

Does inequity need to exist in order for equity to be achieved?
ProInspire: How did the Leadership Academy complement or enhance your learnings from the Managing for Success (M4S) program?
Maggie: While both programs are geared towards development for social sector leaders, the Leadership Academy and M4s program are very different in terms of approach. However, I do see them as very complementary. M4S is so actionable — you can apply learnings to your every day practice. The Leadership Academy is not like that — there are not strategies or templates to use in your meetings, for example. Instead, the Leadership Academy paints the big picture and allows the participant to step back — why society is the way it is, and how do we address societal problems and inequities? These two programs activate such different types of learning and thinking, but are both key areas of development for emerging leaders.