Chronicle of Philanthropy Names ProInspire a Nonprofit Group to Watch in 2015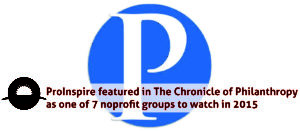 FOR IMMEDIATE RELEASE
Contact: Martha Searby, Communications ([email protected])
January 16, 2015
Chronicle of Philanthropy Names ProInspire a Nonprofit Group to Watch in 2015
ProInspire included in list of seven organizations worth watching
The Chronicle of Philanthropy, a top news source for nonprofit leaders, funders, and other philanthropic stakeholders, honored ProInspire by naming it one of seven nonprofit groups to watch in 2015.  ProInspire was named alongside larger, national organizations like the American Red Cross and The ALS Association, as well as newcomers sure to generate buzz such as the Barack Obama Foundation.
In its announcement, the Chronicle of Philanthropy highlighted ProInspire's fellowship program and the success of its model in attracting – and retaining – young business professionals to the nonprofit sector.
"ProInspire's inclusion on the Chronicle's 2015 list of nonprofit groups to watch is validation of the importance of talent to the nonprofit sector and the relevance of our mission to develop leaders at all levels for organizations addressing the world's greatest challenges," said ProInspire Founder and CEO Monisha Kapila. "To be recognized with sector leaders who often command a much larger share of voice is an exciting and humbling honor for which we are grateful.  In 2015, we look forward to continuing our efforts in collaboration with our partners to promote the importance of talent to achieving greater societal impact."
Click here to read the entire list.
About ProInspire

ProInspire is a nonprofit that develops leaders at all levels for organizations addressing the world's greatest challenges. Through fellowships, leadership development, and research, ProInspire strengthens individuals and organizations to catalyze social sector performance. Founded in 2009, with offices in Washington, DC and the San Francisco Bay Area, ProInspire partners include Accion, Community Housing Partnership, Global Giving, National 4-H Council, Share Our Strength, Tipping Point Community, and Year Up, among others. For more information about ProInspire, including information on program applications, please visit proinspire.wpengine.com or @proinspire on Twitter.