Elements of Social Movements: Lessons from NewSchools Summit
By Monisha Kapila, Founder and CEO, ProInspire
Last week I had the opportunity to attend the NewSchools Summit in San Francisco, California. The NewSchools Summit is an annual gathering for education leaders who bring important and diverse perspectives in K-12 education innovation.
This was my second time attending Summit, and I was struck by how far ProInspire has come since I first attended in 2010. At this Summit, I was reminded about how many education organizations have been touched by our programs, and in fact saw several of our stakeholders there! I was able to connect with Jessenia Francisco (ProInspire Fellow at New Schools Venture Fund), Marcus Noel (ProInspire alum and founder of Heart of Man), Kristin Scotchmer (ProInspire partner and Executive Director of Mundo Verde PCS), and many more colleagues.
The Summit kicked off with a keynote session about Movements for the New America, featuring research by Dr. Manuel Pastor (Professor of Sociology and American Studies & Ethnicity, USC), and a panel discussion with leaders from the Black Lives Matter movement and Dreamers movement.
Key Outcomes from Movements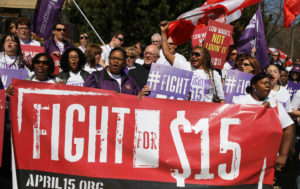 Dr. Pastor highlighted findings from his institute's research on how change happens with movements. There are typically four key outcomes from movements:
Change the story
Change the policy
Change the outcomes
Change the power relationships
Ten Elements of Movements
Dr. Pastor's team studied a number of movements, including Black Lives Matter, Dreamers, Fight for 15, Marriage Equality, Occupy Wall Street, and more. Their research identified ten key elements of movements:
Vision and Frame: Vision sets the goal. Frame sets the debate. Policy package describes how interests might be met.
Authentic base in key constituencies: The membership base is engaged, or organized to engage.
Commitment to the long haul: Focus on strong membership for the long haul, and strategies to build power.
Underlying and viable economic model: Movements need a viable growth strategy, and analysis is key groundwork to shape that.
Vision of government and governance: Core to the work of movements is to shift power to change policy.
Scaffold of solid research: Statistics and data are key to drive this work, so organizations driving movements either produce research or form partnerships for research.
Pragmatic policy package: Successful movements have policy recommendations that they are working to achieve.
Recognition of need to scale: A misconception is that movements are built around grassroots organizations. Big problems need organizations that can move at scale.
Strategy for scaling up: Often movements start locally and have a theory of geography for change.
Willingness to network with other movements: There is a saying that the old way of organizing was building empires. The new way of organizing is building ecosystems of organizations that make change together.
Perspectives from Movement Leaders
The session also featured a panel of leaders who spoke about their experiences within movements. Brittany Packnett (Executive Director, St. Louis, Teach For America) spoke about her leadership in the Black Lives Matter movement, and Jose Patiño (2014 Teach For America Corps Member), spoke about his leadership in the Puente Humans Rights Movement, aka Dreamers movement. Mark Fraley from Leadership for Educational Equity moderated the panel.
It was powerful to hear from young leaders who have worked at the forefront of such important movements in our country. They each shared their own personal experiences that influenced their involvement with movements.
Jose spoke about why he fights for full recognition of human dignity for undocumented immigrants: "I fight because we can't lose."
Brittany spoke about participating in a peaceful protest with Black professionals in Ferguson. She was speaking with a middle school student when police used tear gas to break up the protest: "I looked up and saw the middle schooler go back to the protest. I had no choice but to follow. He was my leader. If he was brave, I could be brave. If we are not being affected by those most affected, then this is not a movement."
Key themes among the speakers:
Movements must be truly led by those most affected. Not consulted, but led.
Leadership in movements for people of color is exhausting. Allies need to make sure that people of color are not the only ones who speak up.
Change doesn't happen without conflict. Collaboration is principled conflict.
Some key takeaways for me are around how ProInspire can better support social movements. How do we develop young leaders to make sure they have the skills necessary to engage with movements? How can we leverage lessons from movements around our work to increase focus on diversity and equity in the nonprofit sector?