Race Equity and Leadership: ProInspire Responds to the Generous Gift from MacKenzie Scott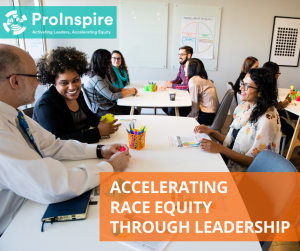 June 15, 2021
"We are excited to share that ProInspire has received a one-time transformational gift from philanthropist MacKenzie Scott. This unrestricted gift is the largest in our organization's history and opens up the possibilities for us to deepen investments in ProInspire's infrastructure, support BIPOC leadership through the Catalyst Collective, and continue delivering resources that influence and equip the sector to advance race equity through leadership."
ProInspire is profoundly grateful for the transformational unrestricted gift from philanthropist MacKenzie Scott to advance the work of the organization. The gift comes at a pivotal moment in the organization's twelve-year history as it shifts to a shared leadership model and prepares to release its five-year research publication championing a self through systems approach to accelerate equity through leadership practices.
MacKenzie Scott's philanthropic approach of trusting smaller nonprofits, providing generous unrestricted support, and investing in BIPOC leadership underscores ProInspire's foundational belief that leaders with the courage and commitment to advance race equity can transform systems.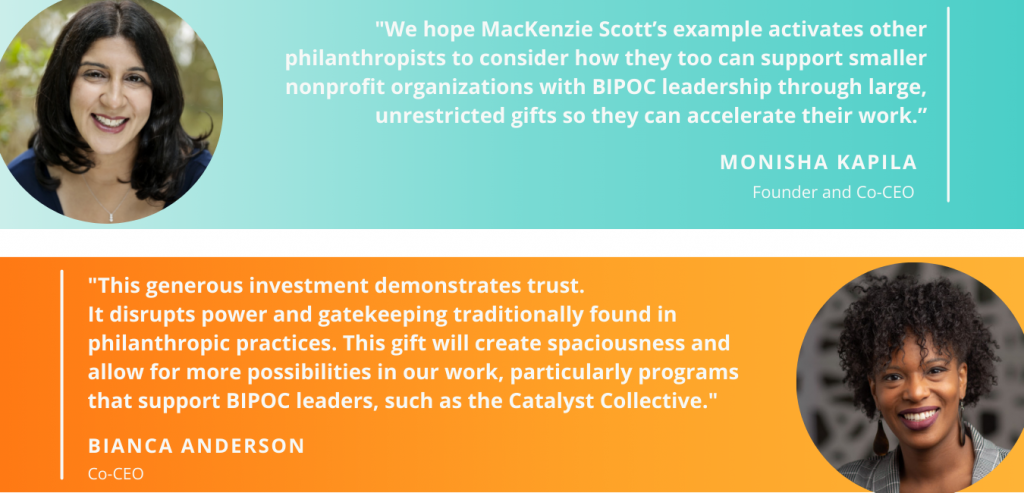 ProInspire will steward this gift to expand its support for BIPOC leaders and BIPOC-led organizations. This investment also comes on the heels of the release of ProInspire's Leadership Model for Race Equity Impact. Using this leadership model, ProInspire will continue to support leaders with building more racially equitable policies and practices within the social sector.
Learn more about MacKenzie Scott's investment of approximately $2.7 billion to "286 Teams Empowering Voices the World Needs to Hear" on Medium.
###
ABOUT PROINSPIRE
Founded in 2009, ProInspire activates leaders at all levels to accelerate equity. Rooted in the belief that leadership and equity are interconnected, the organization designs and delivers programs and resources to support leaders, strengthen organizations, and influence and equip the social sector. ProInspire was named by the Chronicle of Philanthropy as one of 7 Nonprofits to Watch in 2015, and as a Top-Rated Nonprofit from 2015 to 2018.
For more information, visit www.proinspire.org and follow ProInspire on Facebook, Twitter, and LinkedIn.