Managing for Success Alum Daria Hall Selected for American Express Leadership Academy 2.0 Emerging Nonprofit Leaders Fellowship Cohort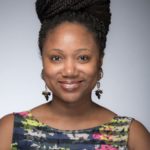 Congratulations to Managing for Success Alum Daria Hall on her selection to the American Express Leadership Academy 2.0 Emerging Nonprofit Leaders Fellowship Cohort! Daria will join 14 other executive and management level nonprofit professionals and social entrepreneurs for a weeklong program later this summer in Aspen. This highly selective program, run in partnership with the Aspen Institute Program on Philanthropy and Social Innovation, affords participants "the opportunity to move beyond daily operational concerns and take time for an enlightened exploration of the core values that animate their work – inspiring them to become more effective, innovative leaders."
Daria was a member of the Spring 2015 Managing for Success cohort in Washington, D.C., and serves as Vice President, Communications & External Relations, for America's Promise Alliance, an organization devoted to helping to create the conditions for success for all young people.
Click here to read the press release announcing the American Express Leadership Academy 2.0 2017 cohort, including bios of all 15 Fellows.
We are grateful to American Express for their continued support of Managing for Success, ProInspire's targeted leadership development program for social sector managers.