Chronicle of Philanthropy Publishes Op-Ed by Co-CEO Bianca Anderson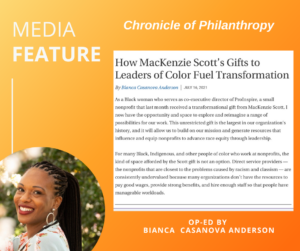 In her op-ed, How MacKenzie Scott's Gifts to Leaders of Color Fuel Transformation, published by the Chronicle of Philanthropy, Co-CEO Bianca Anderson shares her reflections as a recipient of Scott's unrestricted generosity and investment in BIPOC-led work.
Bianca reflects on the reality that "for many Black, Indigenous and other people of color working at nonprofits, the kind of space afforded by the Scott gift is not an option."

Through her lens as a leader and ProInspire's work with the Catalyst Collective, a community of practice for senior leaders and executives of color, Bianca outlines three fundamental ways in which supporting BIPOC leaders will lead to transformation.
You can read the full op-ed here. An excerpt of the piece is provided below.
_____________________________________________________________________________
Op-Ed Excerpt:
How Mackenzie Scott's Gifts to Leaders of Color Fuel Transformation
By Bianca Casanova Anderson
As a Black woman who serves as co-executive director of ProInspire, a small nonprofit that last month received a transformational gift from MacKenzie Scott, I now have the opportunity and space to explore and reimagine a range of possibilities for our work. This unrestricted gift is the largest in our organization's history, and it will allow us to build on our mission and generate resources that influence and equip nonprofits to advance race equity through leadership.
For many Black, Indigenous, and other people of color who work at nonprofits, the kind of space afforded by the Scott gift is not an option. Direct service providers — the nonprofits that are closest to the problems caused by racism and classism — are consistently undervalued because many organizations don't have the resources to pay good wages, provide strong benefits, and hire enough staff so that people have manageable workloads.
And BIPOC leaders often face another challenge: Our goal to eliminate systemic inequities is both professional and personal. In many instances, we and our families and friends have been harmed by the injustices that we fight against on behalf of the people our nonprofits serve.
Ever since the antiracism protests erupted after George Floyd's murder, many foundations and philanthropists asked what they could do to support BIPOC leaders and the causes they are working on. Donors like MacKenzie Scott have demonstrated the answer to that question in a big way: channel multimillion-dollar funding to nonprofits led by people of color, especially those that work directly in communities that have been harmed by structural racism. Philanthropists and foundations should also donate more funding to leaders who reflect values of equity, inclusion, and justice in their work.
Continue reading the op-ed here.