Our Reflections on the Crises in the Middle East
November 9, 2023
This past month at ProInspire, we have been reflecting on the crises in the Middle East, particularly the events in Gaza. We have held one-on-one check-ins and engaged in open dialogues as a full team (about individual needs and our collective solidarity). We acknowledged the complexity of this crisis and reaffirmed our commitment to centering relationships, especially within our network, whose friends and families are directly impacted.
As the crisis continues, we are called back to our mission and vision of a world free from racism and systemic oppression. We stand against genocide, collective punishment, Islamophobia, anti-Semitism. We pray for the safe return of all hostages and grieve for the innocent lives lost in Israel and Palestine. We are unwavering in our stance against all forms of hate and violence.
Our work calls us to center the people at the heart of this humanitarian crisis marked by indiscriminate bombings and the withholding of basic resources for the people of Palestine. Recognizing our role in the sector, we remain dedicated to activating leaders and accelerating racial equity toward freedom and justice.
We invite you to join us in personal reflection and action, recognizing that others may also be wondering how to respond. In doing so, we hope to provide support by offering these prompts and additional resources for our collective journey.
Resources
Self to Systems Invitation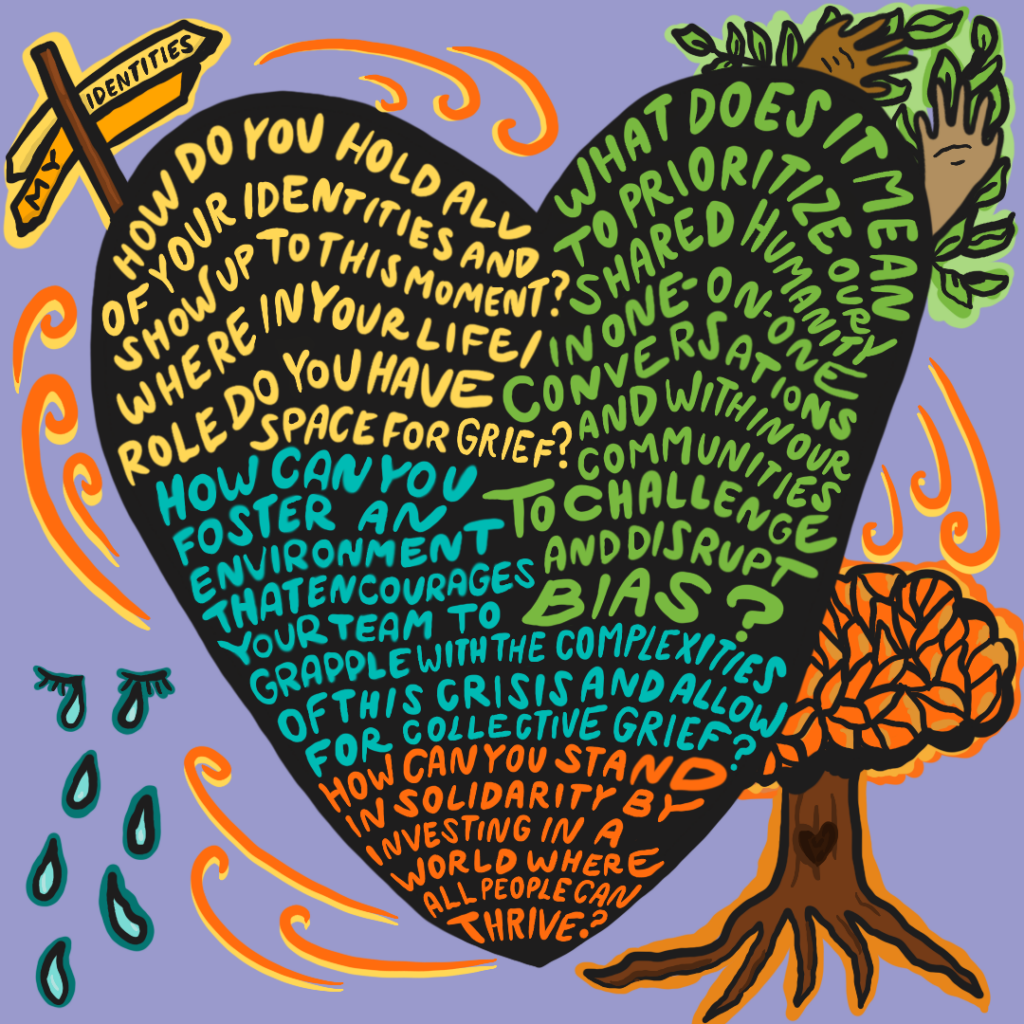 Self – How do you hold all of your identities and show up to this moment? Where in your life/role do you have space for grief?
People – What does it mean to prioritize our shared humanity in one-on-one conversations and within our communities to challenge and disrupt bias?
Orgs – How can you foster an environment that encourages your team to grapple with the complexities of this crisis and allow for collective grief?
Systems – How can you stand in solidarity by investing in a world where all people can thrive?
3-As Resources 
The 3-As are the Three Areas for Advancing Racial Equity found in our Leadership Model for Race Equity Impact
ACTIVE LEARNING AND UNLEARNING
Solidarity with the Palestinian Struggle for Freedom
Self to Systems: Leading for Race Equity Impact
INTENTIONAL ACTION
How to Write a Solidarity Statement (Building Movement Project)
Donate to support families in Gaza
PROCESS OF ACCOUNTABILITY
Our Sector's Role for Calling for Peace
Social Change Ecosystem Map (Deepa Iyer, Building Movement Project)
---