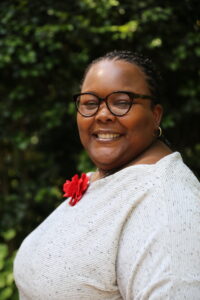 Ashley Bernal
Director, Research and Impact
Ashley is a sociologist with over a decade of experience in anti-racist program-policy research and analysis, policy recommendation, sociological academic instruction, and direct advocacy work in addressing racialized disparities in a myriad of institutions. Her work has consistently focused on systemically addressing the disparity of impact in outcomes for various populations with data driven recommendations and strategies for implementation. Although an academic by trade, Ashley is an artist at heart. Merging her passion for the Arts with academic rigor, Ashley continues to develop creative ways that translate complex theories through artistic mediums. Whether it's creating content, curating exhibits grounded in sociological concepts, or serving as a content consultant on various projects, her goal is to make valuable information accessible to communities that would otherwise be excluded.  
Ashley is a former research consultant with organizations such as the New York City Bar Association's Office for Diversity and Inclusion, New York City Department of Education, and The Russell-Sage Foundation. She was also an adjunct professor at the City University of New York's York College, having taught courses in the Sociology of Race & Ethnicity, Social Stratification, and Social Theory & Analysis.
Ashley earned her B.A. and Master's degrees in Sociology from the University of New Orleans, concentrating in race, class, and gender analysis. She is currently completing her doctoral studies in Public & Urban Policy at the New School's Milano School of International Affairs focused on understanding various ways Black Americans experience citizenship in an anti-racist society. 
What is your favorite form of self-care?
Taking myself on solo dates. A perfect date includes going to the spa, taking in a show or movie, and fine dining. I am constantly engaging with people so it's truly a luxury to be alone with my thoughts outside of my home. Solo dates give me a change of scenery and allows me to treat myself with things that make me happy; entertainment, great food, and most importantly, pampering.
What is something that you're learning about? 
I am currently learning how to paint with acrylics. During the pandemic I started sculpting clay flowers and I want them to look more realistic. I am learning about mixing colors, shaping, and brush strokes. It's taking a lot of patience but it's extremely calming.
Why do you do what you do?
I love research and human inquiry. I believe my role in the push for racial equity in access and outcomes is to provide evidence-based recommendations for institutions to implement policies and best practices that better support racialized minorities. Research helps to highlight the experiences of marginalized communities for those in positions of power that make decisions about people they too often know nothing about.