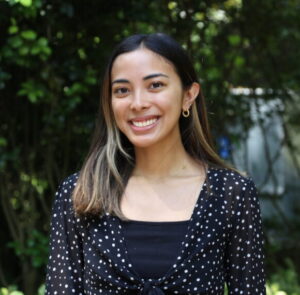 Camille De La Rosa
Communications and Engagement Manager
Camille De La Rosa (she/her) is a Filipino-American communications professional, freelance illustrator, and storyteller who is committed to disrupting feeds, cultivating creativity in her community, and coloring the world through her words and work. She brings over 5 years of experience in social media strategy, communications, and illustration. She has worked across and at the intersections of the social and small business sectors, elevating the stories of purpose-driven nonprofit organizations and voices of the global majority.
Her experience spans across working in communications for one of the nation's largest AAPI+ festivals – the Los Angeles Asian Pacific Film Festival presented by Visual Communications – to develop and support the voices of Asian American and Pacific Islander filmmakers and media artists who empower communities and challenge perspectives – to working in social media and creative content production with InHerShoes, a nonprofit dedicated to catalyzing courage for girls and women around the world to live and create courageously. She previously served as a communications consultant for ProInspire, supporting external communications work. In addition to her work at ProInspire, as a freelance illustrator, Camille is passionate about bringing her collaborators' stories to life through her vibrant style and impactful messaging. Her illustration work has been featured across the digital landscape, including Forbes.
What is your favorite form of self-care?
My favorite forms of self-care include grounding in nature, brewing tea for myself, and reading graphic memoirs. With work, I spend so much time in the digital space that I enjoy seeking out and incorporating more analog approaches to fun and self-care (e.g. collaging with old magazines, hiking with friends, or doodling in a notebook). 
What is something that you're learning about? 
I'm learning about the art of printing! My freelance illustration practice has been mostly digital, but this year, I'm looking to create products to share my illustration work in new and tactile ways. 
Why do you do what you do?
I'm deeply passionate about the ways that creativity and storytelling can elevate the voices of the global majority and cultivate community. Equipped with an undergraduate background in Anthropology and Asian American Studies, I've embraced a human-centered approach to both my communications and freelance illustration work. It's why I'm such a big supporter of children's books and zines–the kinds of storytelling that have felt the most accessible to me. Both historically and in this present moment in the U.S., there is an active suppression of stories across the disability community, LGBQTIA+ folks, and Black, Brown, Indigenous, Asian American, Pacific Islander, and other voices of the global majority. This is one of the many reasons I'm excited to be part of an organization working to elevate and illuminate these important stories and celebrate the abundance of wisdom, passion, and skills leaders of color bring to the table.