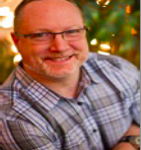 Because of his passion for and commitment to growth and development, in January 2014, Colin transitioned from his 20+ year corporate HR & Organizational Development career to fully dedicate himself to Five Ways Forward. A coaching and HR/organizational consulting firm, Five Ways Forward partners with individuals, managers, executives, teams and organizations to identify what success looks like and help them move forward to achieving that success – at work and in life.
Colin possesses a BA in Interpersonal & Public Communication and a Certificate in Leadership Coaching from Georgetown University, one of the world's leading programs. He is a Professional Certified Coach with the International Coach Federation and has certifications in The Leadership Circle Profile and Culture Survey, MBTI, EQ-i2.0 & EQ-i360 Emotional Intelligence Assessments, SOAR (Success through Observer-Action-Results), Lominger Voices 360 Assessment & Leadership Architect Competency Model, and others. He is also a Board Certified Polarity Practitioner with the American Polarity Therapy Association. During his corporate career, he worked deeply in the consulting, technology/software, and retail industries as an HR Business Partner, learning & development facilitator, adviser/coach, performance management, and employee relations and communication expert.
In his own words: 
As a coach and consultant, I believe in lives worth living, leaders worth following and organizations worth being a part of, all of which create communities worth living in; I embody compassionate challenge in helping clients find their way forward. Whether I am working with an individual, team, or organization, I seek to listen deeply, provide meaningful insights, and partner effectively to move you forward toward achieving your goals and your success – however you define that. While providing compassionate support, I will challenge you to explore, grow, and move forward.
I am known for being wickedly intuitive, engaging, energizing, thoughtful, forthright, and deeply insightful. And I am honored and humbled by the opportunity to impact people, teams and organizations in real and powerful ways.