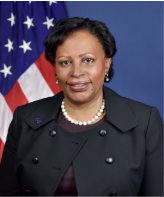 Daphne Y. Jefferson was appointed Deputy Administrator of the Federal Motor Carrier Safety Administration (FMCSA) in February 2015.  Prior to her appointment with FMCSA, she served as the Counselor to the Chief of Staff at the U.S. Department of Transportation (DOT) in the immediate Office of the Secretary (OST) from December 2013 until February 2015.  Before that, she served as the Deputy Assistant Secretary for Administration for DOT. In this role, she provided leadership and oversight in the areas of human resources, security, acquisitions and grants, transportation and facilities, and space management.  Previously she also served as the Associate Administrator for Administration for the Federal Motor Carrier Safety Administration (FMCSA) at DOT. As Associate Administrator, she provided executive oversight of acquisitions management, management services, human resource management, and training in support of the FMCSA mission.
Ms. Jefferson began her federal career with the Federal Aviation Administration (FAA). Over a 20-year period, she held positions of increasing responsibility within the Air Traffic Control Service, including managing air traffic control field facilities and serving as manager of the Meteorological Support Branch in Washington, DC. As Branch Manager, she was the Air Traffic organization's lead for aviation weather issues affecting the air traffic control system and managed the FAA's nationwide contract weather observation program.
Ms. Jefferson holds a Masters in Public Administration from American University and served as a Brookings Institution Legislative Fellow in the U.S. House of Representatives.  She holds a Certificate in Leadership Coaching from Georgetown University's Institute for Transformational Leadership.