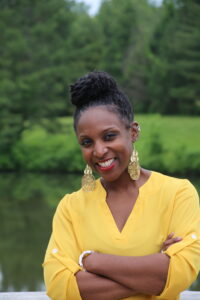 Dr. Monea Abdul-Majeed is a Racial Equity Strategist, Antiracism Trainer, and 500-hour, Certified Yoga Teacher. She leads organizations and wellness spaces to racial equity through training, strategy, her 4 R approach: reflection, relationships, restoration, and resilience. 
She has over 19 years of experience in organizational leadership, statistical analysis, training, project management, professorship, non-profit work, and community engagement. She received her bachelor's degree in sociology and politics from Washington and Lee University in 2004. In 2010, she earned her doctoral degree in Sociology and Political Science from Howard University, where her concentration was Social Inequality (Race, Gender, and Ethnicity) and Urban Sociology. Her dissertation title was, "A Historical Materialist Analysis of the Shifts in African American Family Formation, 1960-2008."   
She was a federal government employee at the U.S. Census Bureau from 2001-2016. During her tenure there, she worked in many different areas including Ancestry and Ethnicity, Workforce Development, Job Rotation, Organizational Climate, Poverty and Health Insurance Estimates, and Risk Management. She earned her Master's Certificate in Project Management from George Washington University in partnership with the U.S. Census Bureau. While at the Census Bureau, Dr. Monea earned the Bronze Award, which is the highest award given, for her work on the Small Area Health Insurance Estimates and Small Area Poverty Estimates data collections. She also served as the Project Manager for the organization's first organizational climate survey. 
She has been a professor at Montgomery Community College in Maryland, Trinity Washington University, Penn State York, and HACC. Dr. Monea has taught Introduction to Sociology, The Family, Urban Sociology, Research Methodology, Work and Society, Antiracist Education, and Research Writing. 
Dr. Monea is a 500 hour certification in the Vinyasa style of yoga. She has been a dedicated student of yoga for 16 years and uses her knowledge of mindfulness to inform her racial justice work. A D.C. Native, she currently lives in Pennsylvania with her husband, Musa Abdul-Majeed, and their four children.
What is your favorite form of self-care?
My favorite form of self-care is being outside at a park coloring. I love adult coloring books.
What is something that you're learning about?
I love learning about how entrepreneurs fulfilled their dreams. My favorite podcast is "How I Built This."
Why do you do what you do?
I have always had a passion for activism and antiracism. After the murder of Trayvon Martin and the birth of my only son, I decided to get serious about this work. I decided that I could no longer keep silent or do this work on the side. It had to be my life's work.
What's a picture that means a lot to you and why? 
The picture of my family in front of our new home. We purchased our first home together last year and it has been a dream come true. I cried tears of joy the first time I saw my children play in our backyard and I finally got my own office and home gym/yoga space! Grateful for this space!