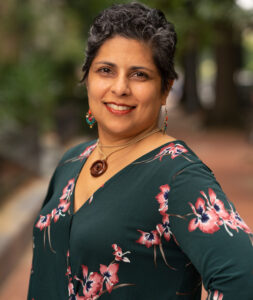 Monica Biswas is a public health and Diversity, Equity, Inclusion (DEI) practitioner, program designer, facilitator, and coach.
Monica is currently Director at ProInspire, where she is working to advance race equity in the social sector through Communities of Practice and custom programs. She has experience working with organizations to operationalize equity and inclusion through strategy, programs, and policies.
As founder and mindful justice coach at Accidental Perfectionist, Monica helps aspiring and committed white allies to re-examine long-held beliefs, use body-based practices to manage overwhelm, and design their own unique anti-racism plan.  She believes that if we each can embody our unique and authentic selves, we will have the courage and power to change the inequitable systems that are damaging for us all.
Monica received her Masters from the Harvard School of Public Health where she studied social determinants of health, leadership, and social change. She went on to work across the healthcare industry to design programs intended to address health inequities for those with the most complex health challenges or who are typically marginalized from the system.
One highlight of Monica's career was, as an AmeriCorps volunteer, organizing the first ever celebration of MLK Day in the city of Columbia, SC in 1999.  Watching hundreds of residents marching towards the park in Five Points, and hearing their voices sing 'We Shall Overcome', remains a lasting moment of inspiration in her heart.
What is your favorite form of self-care?
An unscheduled day!  It allows me to flow with spontaneity towards whatever inspires my heart, body or spirit.  Often that will involve some movement, creativity, nourishing foods, connection with others or rest.
What is something that you're learning about?
Though I've never been into make-up, I've recently been learning about skin care – how to protect it from the sun, but also about how to keep it hydrated and elastic so that it can keep protecting me. I appreciate the ritual of taking care of my physical body. 
Why do you do what you do?
Childhood experiences really shaped this path for me.  I grew up in NJ and MA as the eldest daughter of Indian immigrants.  As a child, I often felt isolated or invisible in the mostly white spaces.  However, my immigrant community taught me the history of colonization and resistance in India, which gave me a sense of strength and pride.  Also, I was in high school when police officers were acquitted of committing violence against Rodney King.  I learned about the reality of how the justice system protects those in power.  In response, I organized protests in the local community.   These early experiences shaped my understanding of injustice, but also of our individual and collective power in resistance and change.