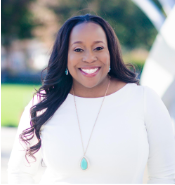 Monique Stevens
Owner, Pivot Pointe Consulting
Monique Stevens has fifteen years of experience in Organization Developmentand Human Resources. She is a creative and results-oriented individual with areputation for looking at the "big picture" while designing and implementingprograms that enhance an organization's daily performance. Monique is anexperienced organization development consultant, facilitator, and leadership coach with an extensive background in leading organizational initiatives that maximize individual, team, and organization performance.
Adept at coaching and collaborating, Monique's passion help her clients to achieve new levels of personal effectiveness. Monique's ability to quickly grasp the unique nature and characteristics of an individual's personal strengths and challenges allows her to quickly engage clients, clarify desired outcomes, develop realistic action plans and achieve measurable results. Her expertise lies in the areas of creativity, communication skills, interpersonal effectiveness, authentic leadership, life balance, and personal strategic planning. She is particularly skilled at working with executive and management-level clients from a broad range of professional areas of expertise and industries.
Monique approaches coaching from the "inside-out" with a focus on inner congruence, visioning, clear communication, personal wisdom, and integrity. Monique is committed to partnering with clients in understanding their values, restoring life balance, and developing resiliency in the face of change.