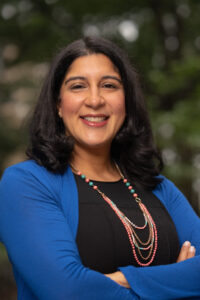 Monisha Kapila
Co-CEO
Monisha Kapila founded ProInspire to help individuals and organizations achieve their potential for social impact. Born and raised as a first-generation South Asian immigrant in Flint, Michigan, Monisha's passion stems from her personal experience working in the nonprofit sector. Over the past decade, she has led ProInspire to grow from supporting five fellows to working with hundreds of organizations to advance leadership and equity. Prior to launching ProInspire, Monisha worked for Capital One, Accion, the Initiative for a Competitive Inner City, CARE, and Arthur Andersen. Monisha has an MBA from Harvard Business School, where she received the Dean's Award, a BBA from the University of Michigan, and a Certificate in Leadership Coaching from Georgetown University. She teaches about leadership and equity at Georgetown's Center for Public & Nonprofit Leadership. Monisha serves as a Board Member for AchieveMission, the National Human Services Assembly, and advises many early stage nonprofit initiatives. She has been published in Nonprofit Quarterly, Stanford Social Innovation Review, the Huffington Post, The Chronicle of Philanthropy, Next Billion, and other publications. Monisha has been recognized as a HBS Leadership Fellow, American Express NGen Fellow, National Urban Fellows America's Leaders of Change, and was named to The Chronicle of Philanthropy's 40 Under 40 list. Outside of work, she enjoys hikes with her family, finding easy Instant Pot recipes, and biking on the trails in Arlington, VA.
What is your favorite form of self-care?
I have realized that getting sleep and spending time outside have the biggest impact on how I feel. I also love reading fiction and sometimes find that I am so into a book that I stay up too late, which totally messes up my sleep goals!

What is something that you're learning about?

I am learning to share power as a nonprofit founder, to appreciate pandemic moments with my kids, and how to be a first-time puppy parent.
Why do you do what you do?
My grandfather was a Freedom Fighter who fought for India's independence, and my parents taught me the importance of community, justice, and working toward a better world. Growing up in Flint, Michigan, I was very involved in my community. Coming out of college I wanted to work in the nonprofit sector but I didn't see people who looked like me. I also saw that entry level wages paid by most nonprofits weren't sustainable. Eventually, I started ProInspire to create pathways for people to come into the nonprofit world. Over time I realized that it isn't just about talent pipelines, we need to support leadership at all levels and center equity to reach our potential for social impact.