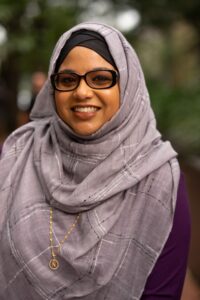 Namira Islam Anani is a lawyer and graphic designer. As a specialist in the field of human rights education and training, Namira works to disrupt patterns that lead to dehumanization. She believes that creativity and cross-cultural wisdom can change how we interact with each other and that we invest in justice by investing in people, communities, and movements.
Namira has worked as a social justice specialist for clients in metro Detroit and across the country. She co-founded the Muslim Anti-Racism Collaborative (MuslimARC) a faith-based racial justice organization. She is a Director at ProInspire, an organization that activates leaders at all levels to accelerate equity at the individual, organizational, and systems levels. Lastly, she sits on the Racial Equity Fellowship Design Team for the Detroit Equity Action Lab (DEAL), an initiative of the Damon J. Keith Center for Civil Rights at Wayne State University Law School. A COVID survivor and "long hauler," Namira has lived with fibromyalgia for ten years. Her areas of focus include anti-racism education, faith-based activism, and disability justice.
Namira previously practiced in poverty law in Flint, Michigan; worked in prisoners' rights litigation at Michigan State University College of Law; and interned in international criminal law and war crimes for the United Nations in The Hague, The Netherlands. Her legal background includes research on racism, global education standards, and the UN Declaration on Human Rights Education and Training.
Namira has served on the boards of multiple Muslim student organizations and has fundraised and led crowdfunding efforts on behalf of Islamic Relief, charity: water, and other causes, since 2008. She is currently an advisor to her late father's organization, Diversified Educational Foundation, which invests in Bangladeshi orphans. She has nearly a decade of experience as a tutor and e-mentor for low-income students. As a graphic designer, Namira specializes in print design and has designed for the AFL-CIO and the U.S. Palestinian Community Network. She has been freelancing for diverse clients in the United States and abroad since 2007.
Namira was born in Detroit, Michigan to Bangladeshi parents and currently resides in Metro Detroit, where she is a "chef wife" and a rescue cat owner. She is an alumna of the University of Michigan – Ann Arbor and the Michigan State University College of Law. In 2010, Namira was awarded the University of Michigan's Tapestry Award for "demonstrating a way of being that contributes to intercultural awareness and relationship building through reflecting the values of social justice, multiculturalism, and diversity." In 2016, she received El-Hibri Foundation's Young Leader Award for "demonstrating collaborative and inclusive leadership in American Muslim communities."
Namira has delivered lectures, presentations, and workshops on diversity, community, and justice across the country, including at Harvard Divinity School, Michigan State University College of Law, and the Minidoka Pilgrimage. She has written for multiple publications and provided commentary and analysis on identity, current events, and social justice narratives for radio shows, documentary films, and other media worldwide.
What is your favorite form of self-care?
Sitting by water and listening to the waves
What is something that you're learning about?
I'm learning more about bath bombs and the perfect temperature for an epsom salt bath.
Why do you do what you do?
As the child of parents who lived through the realities – both inspiring and traumatizing – of a country's fight for independence, I am passionate about disrupting the patterns that lead to dehumanization. I believe that, collectively, we can create better ways of being. 
What's a picture that means a lot to you and why? 
There's a picture of my copper sandals sitting in the sand on the beach that always grounds me when I see it. I took it while sitting in front of the North Sea while abroad for my 2L summer of law school. The picture reminds me of my connection to water, the sense of purpose I felt while working on issues of genocide and war crimes for the United Nations, and of coming into my own as an adult far from home for the first time.