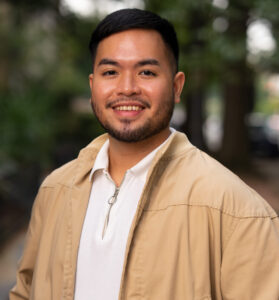 Neriel Ponce is a racial equity facilitator, project manager, and current Senior Manager with ProInspire. He brings with him 8+ years of working with nonprofit organizations serving youth, Asian/Americans, immigrant, and racial justice organizations. In 2013, he co-founded RAISE, a pan-Asian undocumented youth-led collective, leading workshops, panels, and coordinating national gatherings with nonprofit organizations serving undocumented immigrant youth. Neriel's facilitation experience encompasses political education and activism workshops with Chinatown Youth Initiative's Summer Leadership Institute, co-directing the annual Immigrant Youth Empowerment Conference (IYECon), and supporting educators with the Center for Racial Justice in Education. His immigration story has also been highlighted in The Huffington Post, The Daily News, NBC News Asian America, The Progressive, and the award-winning documentary: Why We Rise, recipient of the 2014 Loni Ding Social Justice at the CAAAM Film Festival. 
Neriel earned his BA from CUNY Hunter College, studying cultural anthropology and Asian American studies. In his free time, he loves to travel to new cities, hike, practice yoga, and write critical pieces on Asian/America, and the Filipino/American experience. Neriel fights to see a world where we are rooted in community and social justice and live a life honoring our full humanity.
What is your favorite form of self-care?
When I can, I love traveling to new cities to explore local hiking trails, the best city restaurants, and wandering without a map to explore city streets. 
What is something that you're learning about? 
We did watercolors at a ProInspire retreat recently, so I'm trying to tap back into my artistic side and paint flowers I see outside in my free time!
Why do you do what you do?
I love people, and my formal training through anthropology expanded my own world view of how we all come together, interact, and connect. I'm committed to my own personal growth and the transformation of others to achieve a better world where all of our full humanity is valued.