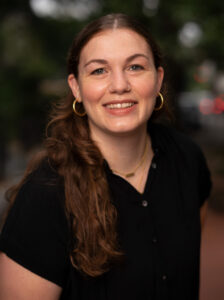 Rosie E. Aquila
Strategist
Rosie Aquila brings her experience in strategic communications, participatory program design and evaluation, fundraising, and project management to the ProInspire team. Before joining ProInspire, Rosie supported the communications, marketing, and donor engagement for a direct service organization supporting older adults and their care partners. She holds a BA in Anthropology from Kenyon College and MS in Communication for Development and Social Change from Temple University.
Rosie entered social movements through Resource Generation, where she discovered a community of peers committed to deconstructing white capitalism, making collective decisions, centering BIPOC and working-class leadership, and moving money to movements while practicing the world we want. She has also organized with community groups fighting for housing, food, climate, and economic justice. Rosie continues to develop an adaptive and anti-oppression lens towards her work. She strives to listen to understand, co-share and co-produce knowledge, and interrupt dynamics of oppression and white supremacy culture. 
Rosie believes deeply in abundance, the power of youth, and resistance in the form of joy. She finds her joy in slow mornings with coffee on her front porch, analyzing the reality television show The Bachelor, roller skating and dancing to her favorite tunes, and savoring a meal with loved ones.
What is your favorite form of self-care?
Going for stroll in my neighborhood to my local bakery for a coffee and sweet treat.
What is something that you're learning about? 
I am learning to slow down and celebrate when things go right, instead of focusing on what went wrong, to rethink my notions of enough, and to not over-water my plants. 
Why do you do what you do?
I'm so inspired by acts of community care, art, and resistance and am routinely in awe of our human capacity for imagination, resilience, and love. Believing that we can dream and build better futures motivates me to do this work.