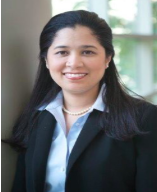 Sandra Buteau
President, L2T Global Consulting
Sandra Buteau is a Professional Certified Coach by the International Coach Federation with a Leadership Coaching Certification from Georgetown University. As President of L2T Global Consulting, LLC, an executive leadership and career coaching, facilitation and training firm, she works with executives from various backgrounds in areas of leadership development, career exploration and change management. Sandra builds trust and partners with high potential individuals and leadership teams to drive positive transitions and transformations to help clients achieve targeted results and operate at their best in today's competitive and global markets.
Sandra has over 19 years of experience in leadership development, executive coaching, curriculum design, and career advising both in the private and public sectors. She has worked in a law firm setting, with a Big 4 accounting firm, and as a senior administrator in academia, and have coached clients from across the United States and from around the world. Her multicultural background provides her with a global perspective and strong cross-cultural competencies. As a Leadership Coach, Sandra partners with leaders in a thought-provoking and creative process that inspires them to maximize their personal and professional potential.
Sandra is originally from the Republic of Panama where she earned a law degree at the University of Panama and later a Master of Laws from Tulane University Law School in New Orleans. Currently, she is serving as a member of the Board of Trustees of the Congressional School. In addition to working 15 years as a career advisor and personal coach at American University and Georgetown University, she has a Leadership Coaching Certificate from Georgetown University and holds a Professional Certified Coach Certification from the International Coach Federation (ICF). Sandra is also certified as a Myers-Briggs Type Indicator® Practitioner by the American Management Association, in Using Type in Career Counseling by The Center of Applications of Psychological Type and the Hogan Leadership Forecast Series Assessment.