The Catalyst Collective is a community of practice designed to generate collective power and support leaders on a personal and professional journey anchored in self-care, community care, and racial equity. The 12-month program supports leaders as they navigate the personal and structural experiences and challenges that leading nonprofit organizations in the social sector often creates.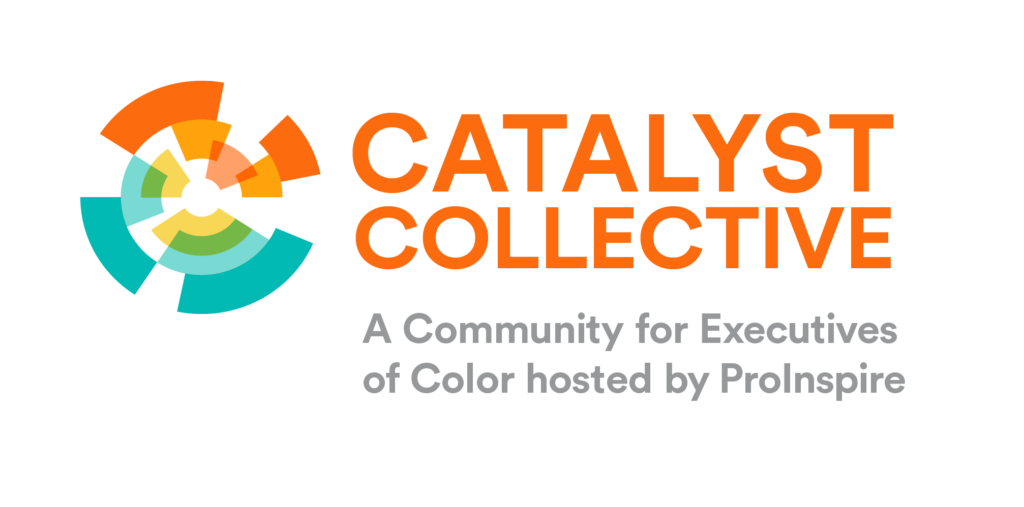 The Opportunity
The Catalyst Collective exists to spark change in a world where 87 percent of nonprofit and philanthropic executive directors or presidents are white. Each day, many Leaders of Color work relentlessly to interrupt the pervasive systemic inequities that disproportionately harm Black and Brown communities. These challenges are often compounded by being "one of a few" leaders of color in a position of authority and the extra sense of responsibility to "not mess up" in white dominant environments.
ProInspire's experience in supporting trailblazing leaders of color suggests that they are facing unique challenges around these key areas:
prioritizing their wellbeing
shifting organizational culture
generating resources
building sustainable institutions
To advance race equity, the social sector needs Executive Directors and CEOs of color to thrive. Investing in the leadership of people of color is one of the most meaningful ways that foundations and nonprofits can support organizations in their work to advance more equitable outcomes and embody equity internally.
Social sector organizations must holistically invest in and support the leadership of People of Color because Black Lives Matter. From boardrooms, classrooms and in communities, our lives matter and so does our leadership.

We live and work within a world that structurally devalues and dehumanizes Black, Indigenous and People of Color physically and psychologically in a multitude of ways. Therefore organizations who are working to create a better world- a world free of systemic racism, must wholeheartedly invest in the well-being and leadership of People of Color who lead nonprofit organizations, this investment is essential if organizations desire to create real structural change."

Bianca Anderson, Co-CEO & Designer
About the Program
The vision is to create a space where leaders can hone their authentic leadership and shift power by bringing their dreams, desires, and development to the forefront. Through virtual convenings and collaboration, The Catalyst Collective will:
Create a space to heal, nurture their leadership style, create a self-care practice, and share knowledge
Shift organizational culture, foster belonging and navigate the current political and social climate
Build financially sustainable institutions and generate collective power to address racial inequities within the nonprofit sector
Meet the Catalyst Collective
The Catalyst Collective consists of two cohorts of 10 leaders each, drawn from our partnership with Kresge Foundation's Arts and Culture & Human Services grantees. We are proud of the inaugural members of The ProInspire Catalyst Collective!
The Soundtrack of our Leadership
In celebration of the launch, members of the Catalyst Collective have curated a collection of songs that individually represent their leadership style. Enjoy our tunes at "The Soundtrack of Leadership" below and on Spotify.
Thank You to Program Partner Kresge Foundation
This inaugural cohort is made possible with the support of the Kresge Foundation's Arts and Culture & Human Services teams.