Leadership Guide Overview
We identified these practices to build shared language and highlight the many ways that all leaders – across identities, roles, issue areas, and organizations – can interrupt inequities through their leadership in the social sector. Demonstrating these practices and deepening one's skill sets and mindsets does not correspond to years of experience, level of workplace hierarchy, or job title. Our hope is that leaders at all levels who are building inclusive workplaces and working towards social impact can use this as a guide to activate their leadership and accelerate equity through their work.
In leading SELF practices, leaders are building an understanding of how they show up and have an impact in situations, and particularly how their individual contributions can advance equity in the workplace. 

These practices include: active learning, emotional agility, intentionally adapting, and sense of identity.  

In leading PEOPLE practices, leaders are fostering inclusive relationships grounded in equity and influencing individuals at all levels within and beyond the organization. 

These practices include: conscious communication, building relationships, fostering inclusive climate, and lifting voices. 

In leading ORGANIZATIONS practices, leaders are adapting work to influence the organization and solidifying their commitment to equity in culture, practice, and goals with a long-term view. 

These practices include: dynamic problem solving, collaborative decision making, developing shared vision, and navigating multiple perspectives. 

In leading SYSTEMS practices, leaders are approaching work to fit within the interconnected system and analyzing the impact of strategies to address the root causes of inequity.

These practices include: systems thinking, innovative approach, aligning values, and reimagining the sector.  
Most social sector organizations are currently based on white dominant culture norms, and this guide reflects operating in that system while working to change it. Structural oppression permeates within social sector organizations at the individual, interpersonal, institutional, and ideological levels.
At the individual level, practices increase knowledge and awareness by recognizing identity, power, and privilege.

These practices include: active learning, conscious communication, dynamic problem solving, and systems thinking.

At the interpersonal level, practices shift mindsets and behaviors by valuing lived experience as expertise, centering inclusive ways of being, and engaging the community.

These practices include: emotional agility, building relationships, collaborative decision making, and innovative approach.

At the institutional level, practices evolve policies and strategic actions by disaggregating data to understand race disparities and analyzing contributions to structural racism.

These practices include: intentionally adapting, fostering an inclusive climate, developing a shared vision, and aligning values.

At the ideological level, practices disrupt invisible norms and biases that perpetuate exclusion by establishing new beliefs, attitudes, and actions.
These practices include: sense of identity, lifting voices, navigating multiple perspectives, and reimagining the sector.
Leadership Guide Updates
Current Leadership Guide Matrix
As of May 2020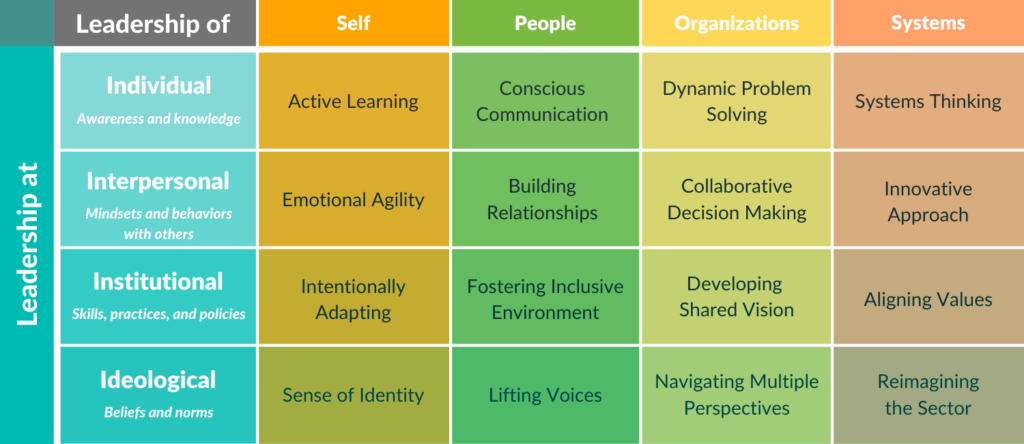 Virtual Learning Session
To learn more about how to be involved in the testing of the competency model, please email [email protected].