This Leadership Model is a tool to support individuals and organizations with core commitments, corresponding practices, and reflection questions that can create and sustain racially equitable experiences and outcomes within the social sector. It is based on ProInspire's collective experience, research, and perspectives, and informed by our thought partners, advisors, and community. We will continue an iterative process to expand the model in a responsive and supportive way as our learnings evolve.
Foundational Principles of the Model
One can operate as a leader from any position within an organization
Leaders within the social sector must prioritize the advancement of racial equity from self to systems
The process for individuals to advance racial equity includes committing to actively learning and unlearning, taking intentional action, and building processes for accountability
The Leadership Model Overview
We identified these Windows of Leadership, Areas of Advancing Race Equity, and Core Commitments to build shared language and highlight the many ways that all leaders – across identities, roles, issue areas, and organizations – can interrupt inequities, namely race inequity, through their leadership in the social sector. Demonstrating these Core Commitments and deepening one's skill sets and mindsets does not correspond to years of experience, level of workplace hierarchy, or job title. Our belief is that leaders at all levels should work towards building inclusive and equitable workplaces that have a positive social impact. We hope that leaders can use this framework, the core commitments, and the practices to activate their leadership and accelerate race equity through their work.
Windows of Leadership and Core Commitments
Windows of Leadership is our term for the perspectives or levels from which leaders can create impact — namely leadership of Self, People, Organizations, and Systems.
Accompanying each window is a Core Commitment, which captures the nature of the practices in each level of leadership.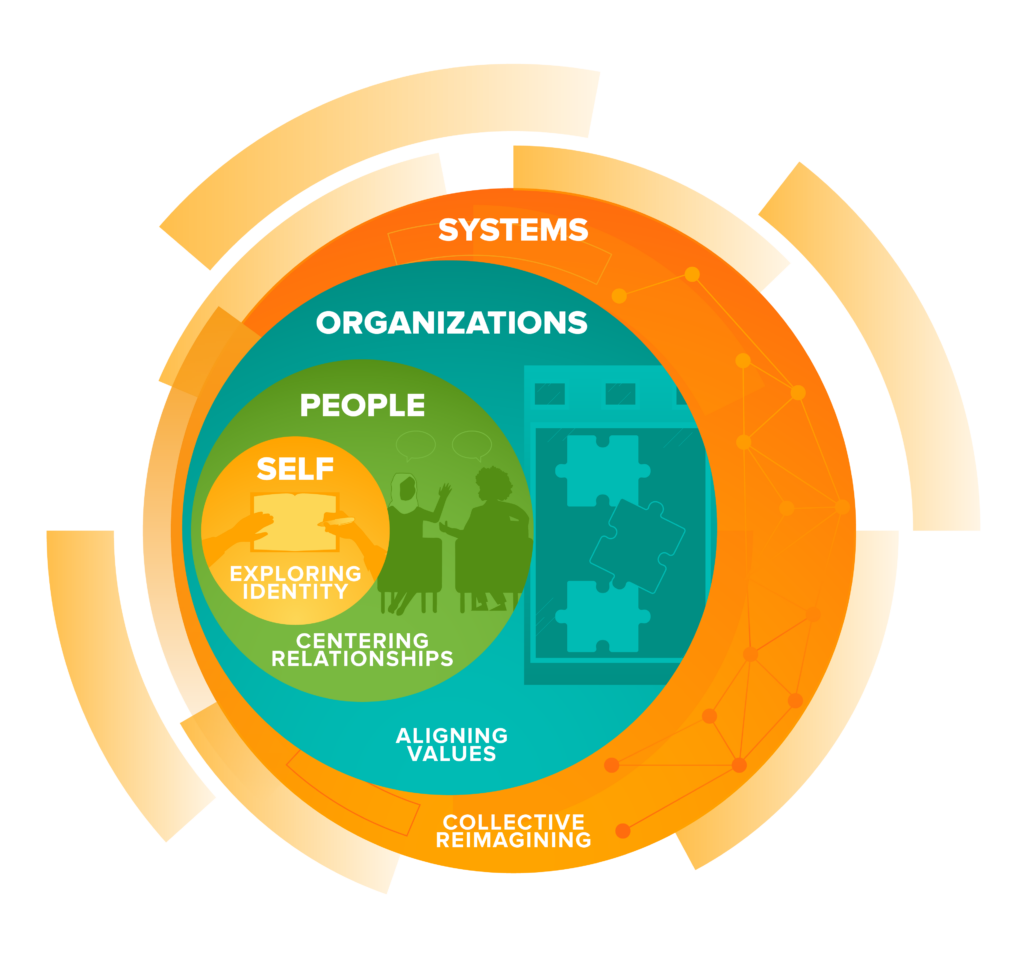 Areas of Advancing Race Equity
The Areas of Advancing Racial Equity Framework (the "3-As") is the structure for categorizing the practices under each of the core commitments. The 3-As or practice categories are active learning and unlearning, intentional action, and processes for accountability.
Active Learning and Unlearning → In these practices, leaders disrupt beliefs and mental models around hierarchies of human worth, in particular internalized superiority or inferiority
Intentional Action → In these practices, leaders address individual behaviors and shift organizational policies, practices, and norms from ones that contribute to bias and exclusion to ones that cultivate belonging
Processes for Accountability → In these practices, leaders and organizations maintain their commitment to advancing racial equity by developing ongoing processes to understand or evaluate outcomes and gather feedback from those who are directly impacted by the work
Download Self to Systems: Leading for Race Equity Impact