ProInspire's Journey to Center Equity in our Work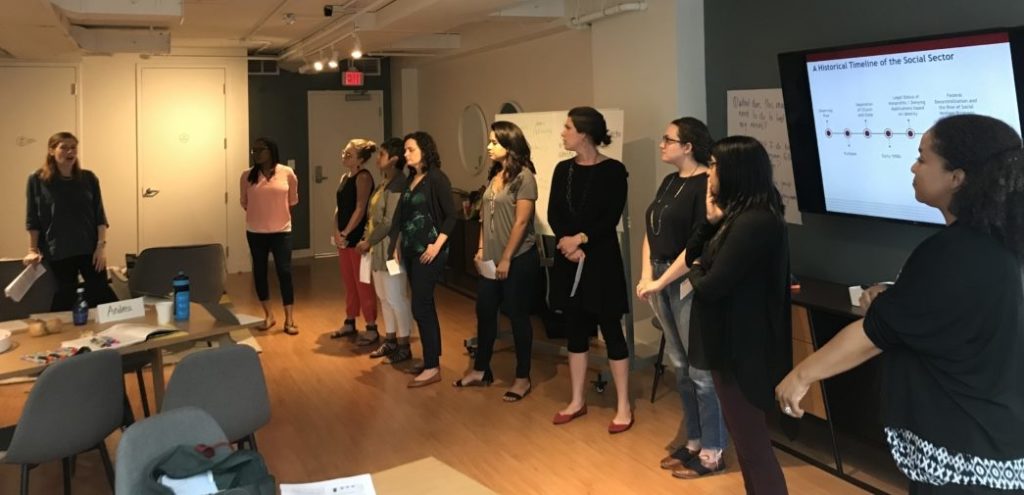 By Monisha Kapila
Over the past two years, ProInspire has been actively building our knowledge and capacity to more clearly center equity¹ in our work. We deeply appreciate partners who have shared their journey with us, so our team will share learnings, questions, and struggles as we pursue our own path. We hope our authenticity and courage to share will encourage other organizations to center equity in their work as well.
Where did our journey begin?
When I started ProInspire, I was interested in expanding talent pipelines because I had personally faced barriers to enter the social sector that I felt connected to my experience as a first-generation immigrant. I structured the Fellowship program to address obstacles such as low entry-level salaries, the need for relationships to access jobs, and preference for hiring individuals with prior nonprofit work experience. While the ProInspire Fellowship attracted very diverse cohorts, which became a huge value-add for our nonprofit partners, I realized that this model could not address the issues underlying these barriers.
Over the past four years, a few key experiences informed my thinking and our work as an organization around why we need to center equity in our work:
In 2015, we participated in the Annie E. Casey Foundation's

Talent Pipelines Learning Lab

, which provided an opportunity to gain a deeper understanding of race equity and the

Results Count™

framework. This experience helped me personally start to clarify how ProInspire's programs connect to the racial leadership gap and systemic inequities in the sector.

In 2015-16, our

strategic planning process

highlighted the need for ProInspire to influence the social sector to prioritize talent, equity, and inclusion, and we made this a strategic priority.

In 2016, we launched

Equity in the Center

with AmeriCorps Alums and Public Allies, and brought that on as a project of ProInspire in 2017. Through Equity in the Center's

research

, we have expanded our understanding of building a Race Equity Culture²

.

In 2017, we started defining our organizational core values, named equity as one of these values, and drafted a DEI Statement. We are refining those and will share them later this year.

In 2017, we engaged

Race Forward

to provide their

Building Racial Equity

training for our staff, consultants, and board members. This training enabled us to create a common understanding of concepts such as racial equity and structural racism and ways to talk constructively about race within our organization.
How to practice what we preach?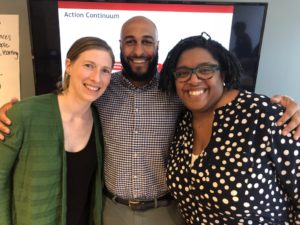 Still, our team struggled with how to live out these commitments daily in our work together and in the programs we operate. We realized that our staff needed greater capacity and time for action planning to ope
rationalize equity in the organization. Earlier this year, we designed and piloted a four-day training focused on understanding racial equity at the personal, interpersonal, organizational, and systemic levels. Ericka Hines, our Senior Advisor for Diversity, Equity, and Inclusion, designed the program. She partnered with Kristen Lucas, Director of Leadership Development, and Andrew Plumley, Senior Manager for Equity in the Center, to implement it for our entire staff and key consultants.
The program started with a pre-survey to understand what is working and identify areas for growth around building a Race Equity Culture. Between March and May of this year, we participated in two sets of 2-day workshops, and each participant received one-on-one coaching between the workshops, which included pre-work, reflection, teaching, candid conversations, and action planning.  
Some of my key learnings from this program are:
Each person goes through a personal journey as their organization centers race equity.

For me, this has meant a deeper understanding of my own identity, greater awareness of my privilege and how it impacts the way I work, and an increased willingness to have difficult conversations about race.

True transformation requires investment in learning and accountability.

We would not have made this amount of progress without support from funders like the Annie E. Casey Foundation and Newman's Own Foundation, who invested in our learning around race equity. We are setting up mechanisms to hold ourselves accountable to this work, such as engaging the Board and revisiting our strategies.

As you do the work to center race equity, you must think critically about all of your organizational practices.

Building a Race Equity Culture transforms the way you view everything in your organization. From the books we use in our leadership development programs, to vendors we hire for catering and meeting space, to the questions we ask in interviews — everything we do will evolve with a race equity lens.
What is next?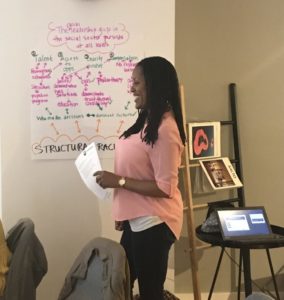 We are applying what we have learned through this program and Equity in the Center's research and publication, Awake to Woke to Work: Building a Race Equity Culture. In addition to the personal action steps each team member is taking, we will continue this work at the organizational level in a few key areas:
Mission and Strategies:

Equity needs to be more explicit in our mission and strategies. This summer, we started to refine these in pursuit of greater alignment across the work we are doing internally and how we communicate externally.  

Board of Directors:

Our Board is doing its own work, and will dedicate this year's annual retreat to capacity building around race equity. We conducted our first Board survey to understand identities and lived experiences of current Board members. This will inform how we think about recruitment for new Board members.

Race Equity Leadership Development Program:

We are refining the curriculum we piloted internally to identify how best to deliver the content and learnings to our partners and alumni, through both existing and new programs.
Want to learn more?
Part of practicing what we preach is sharing out our intentions, demonstrating growth, and learning from others. Through a new blog series, "Leading for Equity," different team members will provide periodic updates over the next year. This type of change is not effortless, so we will do our best to share some of the wins and challenges along the way. Follow along by subscribing to our blog and following us on social media, and email Kristen Lucas to learn more about our development of the Race Equity Leadership Development Program.
Monisha Kapila is the Founder and CEO of ProInspire.
Endnotes
¹ Centering equity in your organization means that you have equity as a non-negotiable core value, acknowledging it as a prerequisite for doing the work and also an outcome you aspire to achieve. It means that you take an equity lens and analyze the equity impacts for every action in every aspect of the organization's operations, culture, and programs.
² A culture focused on proactive counteraction of social and race inequities inside and outside of an organization. Source: Awake to Woke to Work: Building a Race Equity Culture. Equity in the Center, 2018.