By Sonia Shekar and Dionne Galloway
The 2014 ProInspire Fellows in Washington D.C. had a chance to sit down, with three of the 2013 ProInspire Fellows earlier this month. The Alumni shared their insights on taking initiative, being a trusted resource for your organization, and fully utilizing the abundant resources available to Fellows – including ProInspire's strong alumni community!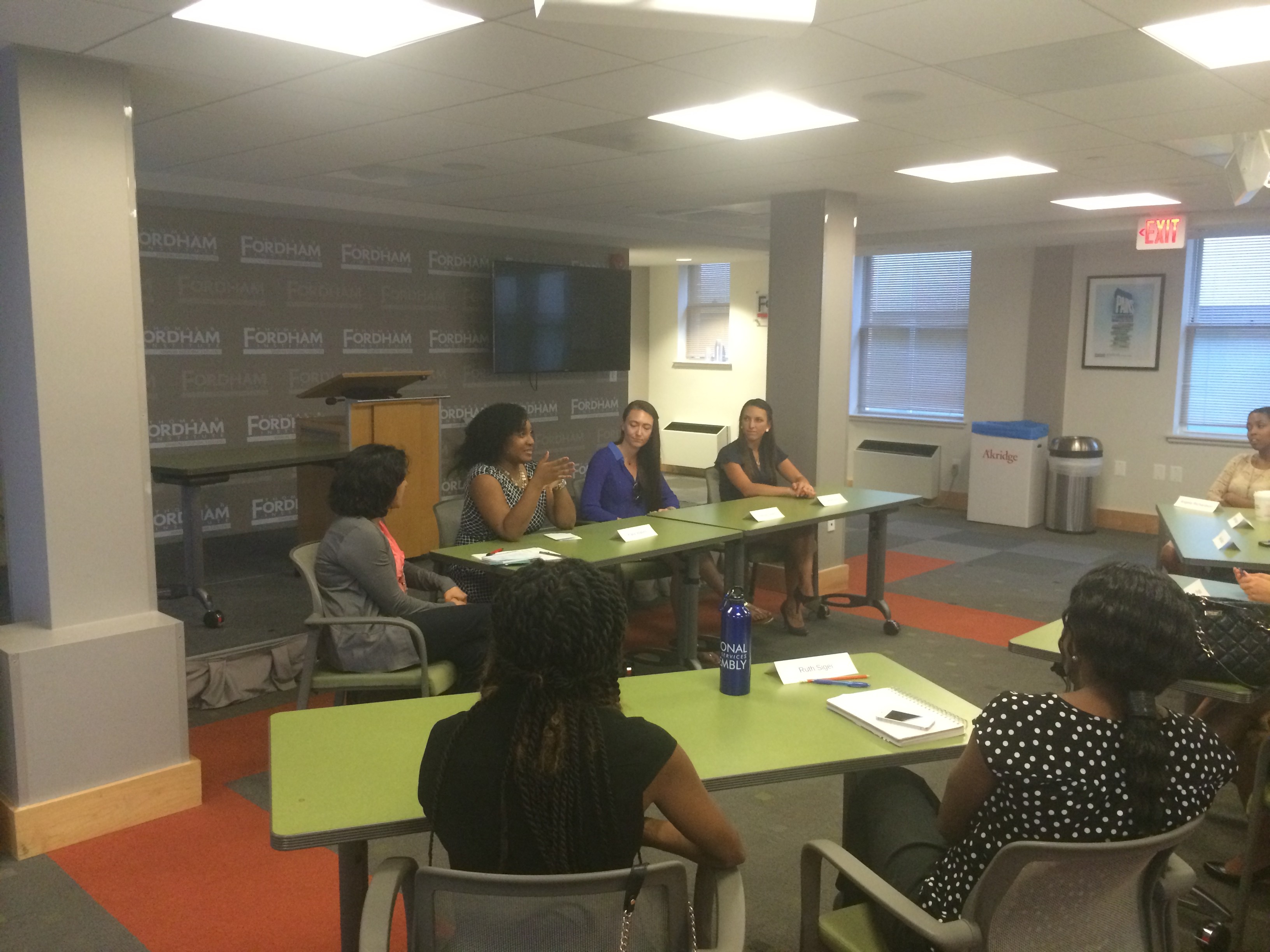 The Fellows, many of whom are just embarking on their one-year Fellowship, had many questions regarding the best ways to transition into their new organization, engage with their cohort, and take advantage of the numerous opportunities made available through the ProInspire Fellowship.
2013 Fellows and alumnae Kiara Walters (College Summit), Allison Green (Girl Scouts Council of the Nation's Capital) and Carolyn Kent (National 4-H Council) shared their own experiences and gave helpful tips and advice on how Fellows could get the most out of their Fellowship year.
Q: What is the best part about the Fellowship?
A: Kiara: It was interesting hearing everyone's different passions and energizing to be around people who had a love for something greater than money.
Allison: Of my cohort, there isn't one person in our group of 19 that I would not happily be stuck on an island with at any time. Take the chance to talk to them. They're amazing, empathetic, smart, and I still hang out with them every weekend.
Carolyn: I had a lot of exposure to high-level people and learned to take advantage of those experiences. Use these experiences as a channel of opening doors by making great connections and showing that you can be creative with your role.
Q: How have you leveraged the fact that you're a Fellow?
A: Kiara: It's especially helpful for the transparency piece –you can be fully transparent about anything you're thinking about without feeling like they're going to go tell your manager. I was able to get in touch with people my manager knew at other organizations whenever I expressed interest. She was eager to put me in contact with them. I was able to explore what I might want to do next.
Allison: If there is one year you're not shy, this is it. One of the first things I did was to chat up alumni I recognized from pictures on the website. Just ask someone's opinion about something if you're shy to start a conversation.
Carolyn: I've definitely shot out questions to the cohort about work. It's hard to admit you don't know how to do something, but people send a lot of resources.
Q: How do you take initiative to get involved with new things?
A: Kiara: Figure out what your boss wants and expects from you. Take initiative in the beginning and always volunteer to take on tasks. Do the best you can and it will open up more opportunities. We had one of our managing directors going out on sabbatical, so I offered to coordinate things, and that brought the opportunity to work on additional high-level projects.
Allison: I came in thinking, "how can we sell cookies?" and a lot of my ideas had already been considered. It's important to ask for their opinions when giving suggestions because they have been thinking about this stuff for a lot longer than you.
Carolyn: Finish the tasks you were assigned first, and remember to take a humble approach when trying to take initiative. It's a dialogue and a conversation because you do not want to come into an environment where you appear bossy. It is a collaborative effort.
Q: What's one of the biggest challenges you faced, and how did you deal with it?
A: Kiara: Instability within the organization just brought on natural challenges, but think about it as opportunity. A lot of the craziness just added more opportunity.
Allison: My organization is run completely differently from where I came, so you just have to step back and figure out how to work through it. I think that you have to be willing and able to do any task that is thrown your way. You have to be the one to figure it out. It's your path to set.
Carolyn: There are a lot of external things, out of your control, that happen. You just have to find the best way to deal with it –just being a sponge, having access to all these different resources and a unique network. It's important when you make the transition to surround yourself with people who are supportive and "get it." It will fuel your passion and motivate you. Maybe you start a venture with someone in your cohort or an alum. Take advantage of it.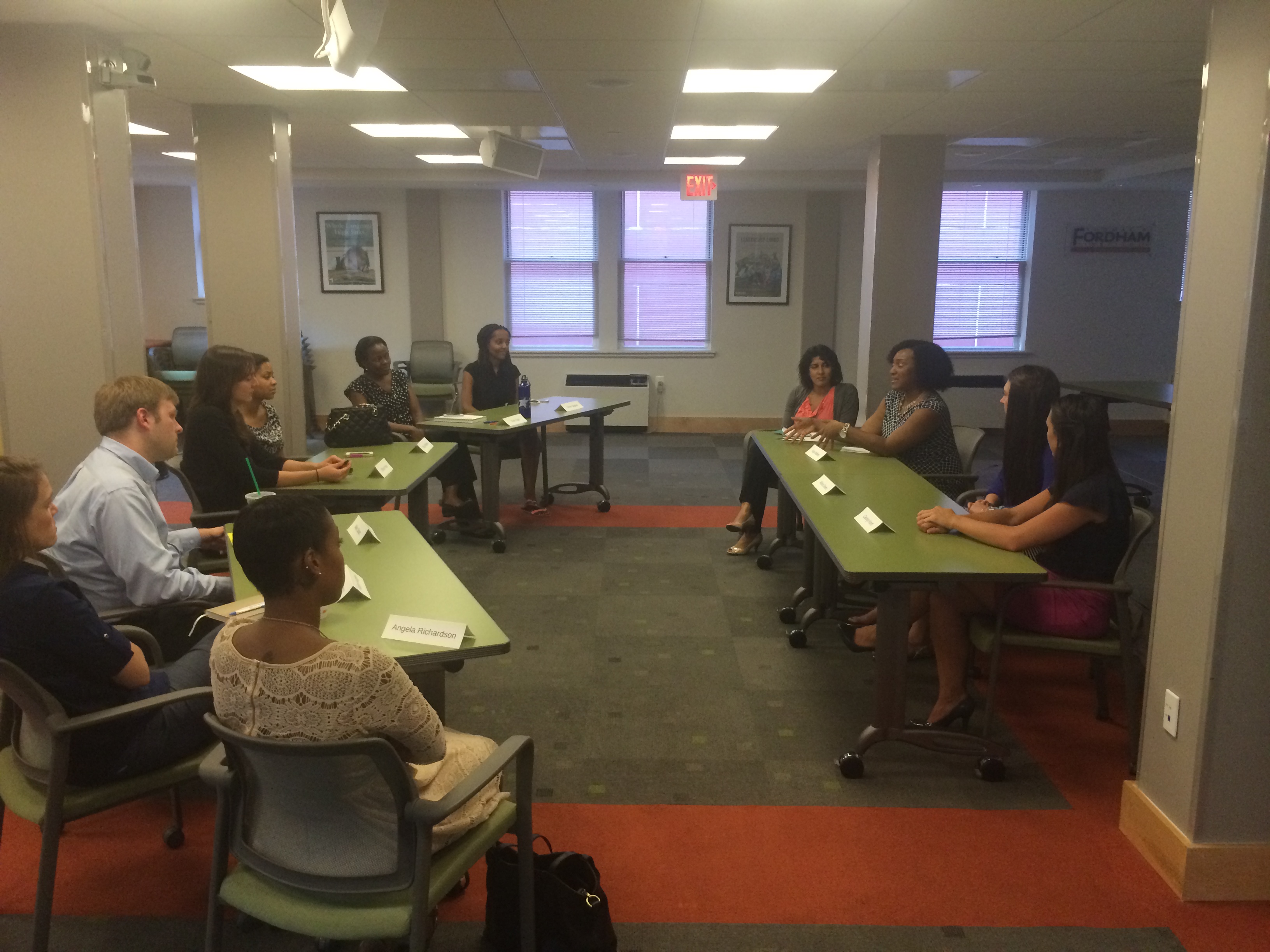 Q: How have your thoughts on business school evolved over the past year?
A: Kiara: I thought about it before, and in my mind I thought I'd just do this for a year. But as the year progressed, I just changed my mind about the way I saw life and work –not as a list of checkboxes each day. I seized the opportunity to enjoy the journey and learn more while on it; it was just not the right time to leave.
Allison: I was dead set on going to business school to make the nonprofit transition. Applications were ready, everything was ready to go and then I got the ProInspire Fellowship. So once I thought about reasons to go to business school and what the fellowship would give, it checked a lot of the same boxes. You'll find a group of people who still want to go to B-School, and you'll find those who see the Fellowship as a great way to answer those same needs.
Carolyn: I got here and wanted to put 100 percent into my role at work. My role was more demanding than I thought it would be. One year seems like a while but it's not. I kept going back and forth about whether I should apply to b-school and for me that signaled that I wasn't ready yet. My year of exploration as a fellow helped me define what I wanted to do.
Q: Any final words of advice?
A: Kiara: Try to connect with the fellows more, as that is a valuable network. I also found that I could live decently off of a whole lot less, so make adjustments to your lifestyle and you will be fine.
Allison: You commit to a lot of things, and it is important to make time for yourself. Take the time during this year to figure out what you want. I started teaching Pilates and got a puppy. You get out what you put in. Choose commitments wisely and be selfish this year, and take advantage of things. If you have any interest in something, email everyone and really use each other. Don't be afraid to reach out. Everyone is happy to share their experiences.
Carolyn: Explore and figure things out. It is a lot at once. Be intentional but also be open. Connect with alumni! We're here, we're also cool people, and we're working together to create more events. We're excited about increasing that growth and interaction.
The Fellows were able to take back great advice from the panel, and they're all eager to start applying it in their own roles and organizations this coming year. Here's wishing the 2014 Fellows good luck over the next year!