From The Desks Of Isabelle Moses, Outgoing Board Chair & Nancy Withbroe, Incoming Board Chair
---
We're pleased to announce a leadership update at ProInspire – As of April 1, 2021, Bianca Anderson now serves as Co-CEO alongside ProInspire's founder, Monisha Kapila.
Bianca brings a wealth of knowledge as an educator, nonprofit leader, and social justice practitioner, with expertise in interpersonal communication, racial equity facilitation, and human development.  As Director at ProInspire, Bianca has been instrumental in guiding ProInspire's Leadership Model for Race Equity Impact and leading initiatives to support individuals and organizations with advancing race equity.
Previously as the founding Director for the Dallas-Fort Worth site of the Center for Racial Justice in Education, she trained and advised over 3,000 community leaders and educators around the nation in effective racial equity policies, practices, and procedures.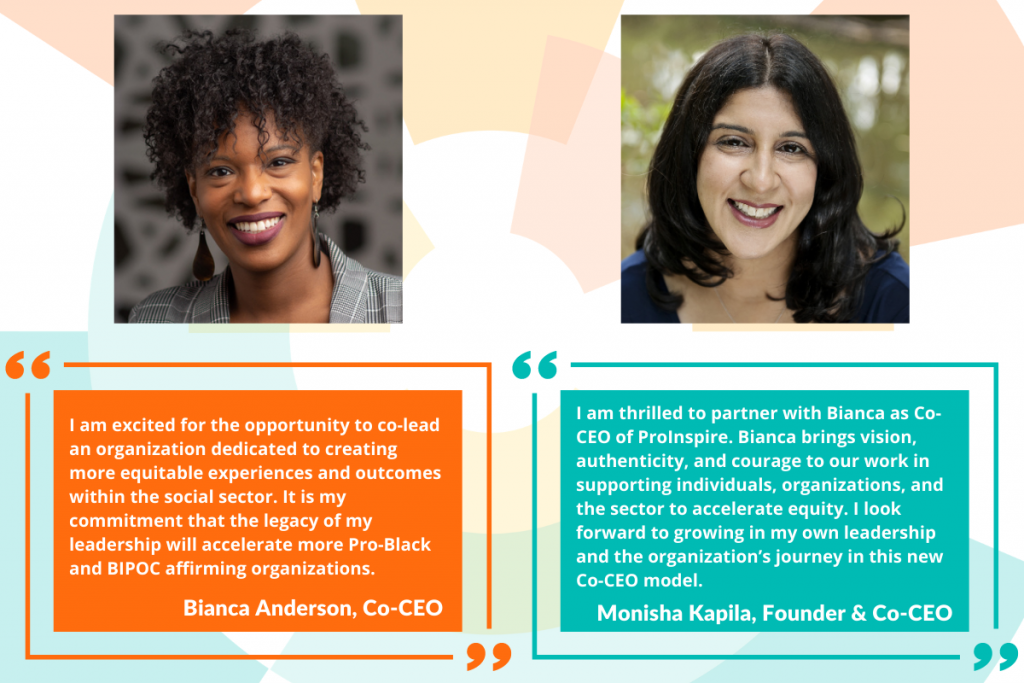 This leadership change aligns with a number of priorities for ProInspire's internal equity journey, including shared leadership, sustainability, and succession planning. ProInspire's work with Senior Executives of Color has helped us explore how Boards can play a bigger role to support the conditions for success, particularly for Black women, moving into CEO roles. ProInspire is fortunate to learn from a number of our peers who provided insight from their shared leadership models. We hope this change will deepen our own understanding of how organizations can accelerate leadership and equity through their internal structures.
Monisha identified Bianca as a strong candidate to join in co-leading ProInspire over the course of 2020 and engaged the board to conduct a formal hiring process. ProInspire's Board conducted a rigorous process, ultimately resulting in the board's unanimous approval of Bianca as Co-CEO.
As immediate past and current board chairs, we are excited to elevate the leadership of Bianca. We were intentional about centering equity and eliminating the search and selection practices that far too often prevent the CEO succession of qualified internal candidates, especially Black women.
To learn more about the new Co-CEO model, we invite you to register here for our upcoming 2021 Impact Call.
Signed,
Isabelle Moses, Outgoing Board Chair
Nancy Withbroe, Incoming Board Chair