Board Lessons From 2020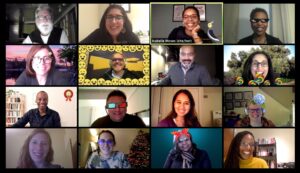 By: Nancy Withbroe, Vice Chair of ProInspire Board of Directors
As we look back on this traumatic year during which our nation has suffered such pain and harm, ProInspire is exploring what lessons we've learned. This is a year during which we've also seen the opportunities for healing and justice that can emerge when we are led by Black, Indigenous and People of Color (BIPOC). These lessons and opportunities include continuing our board's efforts to center race equity in our governance.
I am exploring what I am learning as a White board leader who wants to advance racial equity in this majority BIPOC space – drawing upon ProInspire's Advancing Race Equity Leadership Development Framework.
A couple of years ago, several board members and I participated in an intensive race equity training organized specifically for ProInspire board and staff. I remember squirming throughout this training with staff in the room. I learned that we needed more conversations just among board members. I had to continue my individual work to get more comfortable with being uncomfortable in these spaces.
The next major step we took began in late 2019 through ProInspire's year-long Board/Staff Race Equity Cohort, a collaboration with BoardSource funded by the Meyer Foundation. Those of us who participated in that program got to know each other and our stories much more deeply, identifying common values and celebrating the richness of our diverse lived experiences. This led us to test other ways to build relationships between staff and board, such as mentoring relationships that pair staff and board members with shared racial identities.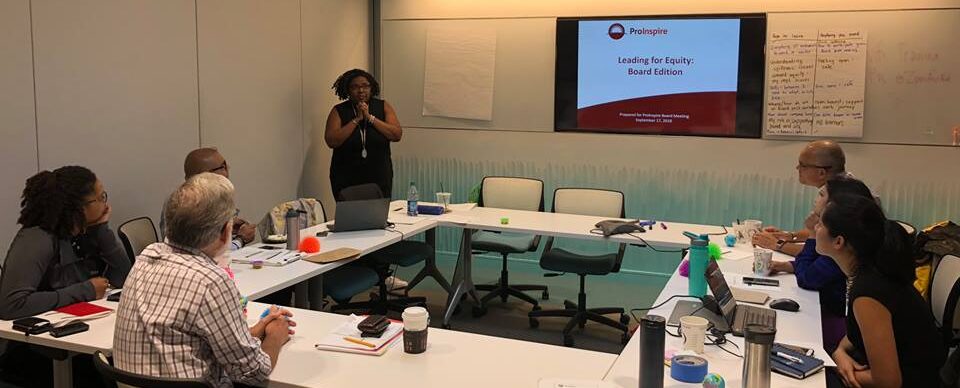 I so appreciated the generative conversation Kristen Lucas, a director at ProInspire, and I had this summer as two white women grappling with the work of anti-racism in the immediate aftermath of Breonna Taylor and George Floyd's murders. We brought our perspectives as staff and board leaders into our work together to enrich the intense learning and unlearning we were doing in that pivotal moment when ProInspire as an institution needed to show up powerfully for its partner organizations.
This combination of substantive training and intentional relationship work enabled our board and staff team to tackle updating our mission, vision, theory of change, and program offerings to name that accelerating equity and activating leaders of color is at the core of who we are and what we do. We returned again and again to this North Star throughout 2020. I am practicing listening deeply to BIPOC voices on the board and being comfortable with the iterative nature of these dialogues. Isabelle Moses' leadership as our chair has been vital. We've recruited and integrated four new board members who bring an astonishing wealth of lived experience, community networks, and skills.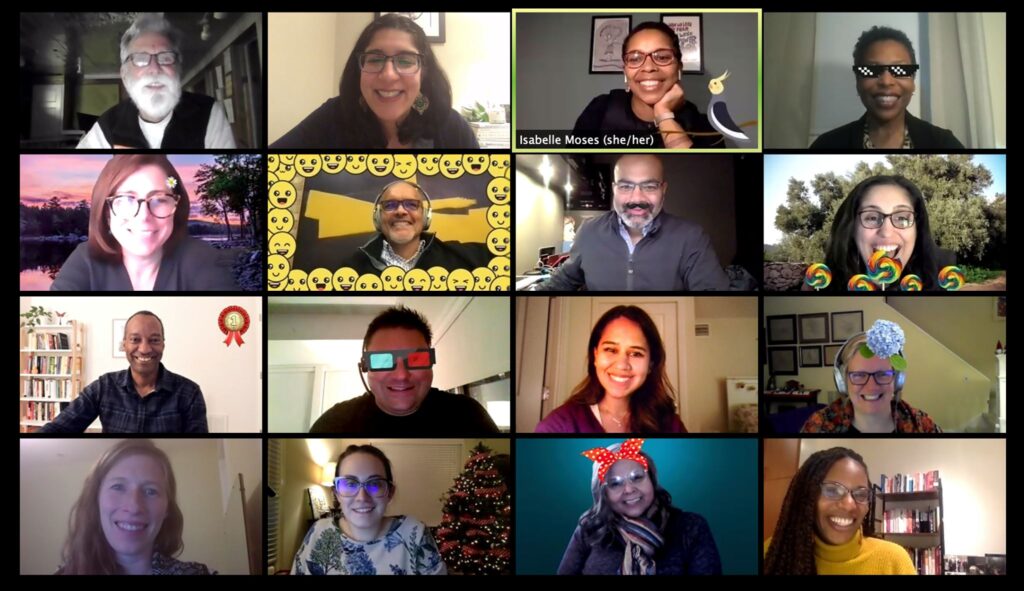 Heading into 2021, I am heartened by what we're learning and unlearning. As we closed out the year I began to question whether it actually made sense for a white person to chair this board. I've almost completed my term as vice chair and the presumption is that I'll step into the chair role next. The critical inquiry in which we've been engaged as a board and staff made it easy for me to name this openly. We considered if we should ask one of the BIPOC members to step in or adopt a co-chair model. But new board member Raquel Gutierrez challenged us to think about the role of white allies and that perhaps this was an opportunity for me and for ProInspire to do more practice work. Isabelle pointedly asked if I was really saying I didn't want to become chair. She made me realize that the group was looking to me to lead – and eager for me to do so. They trusted me to lead effectively, inclusively, humbly, and boldly. They trusted me in this space more than I trusted myself. Raquel and Isabelle helped me to recognize my internalized racism in my hesitancy, as I was looking for a path out of the hard work that BIPOC never get to opt out of. I also recognize internalized misogyny in my discomfort with my power. Both of these were tangled up with appropriate questions about what the practical implications are of the call to center BIPOC leaders. I'm grateful to each of them for these liberating lessons.
I'm beginning to see what is possible when a multi-racial group of committed board and staff leaders come together, grounded in aligned values and trust. I love the playfulness of iterating and testing and exploring in community. I'm honored to bring my whole self, including my lived experience as a white woman, to serving as chair and to the work of accelerating equity. Finally, I'm grateful for the opportunity to invest my personal financial resources in building an equitable and just society, free of systemic oppression, where all people thrive by giving generously to ProInspire here. I hope you will do the same this holiday season.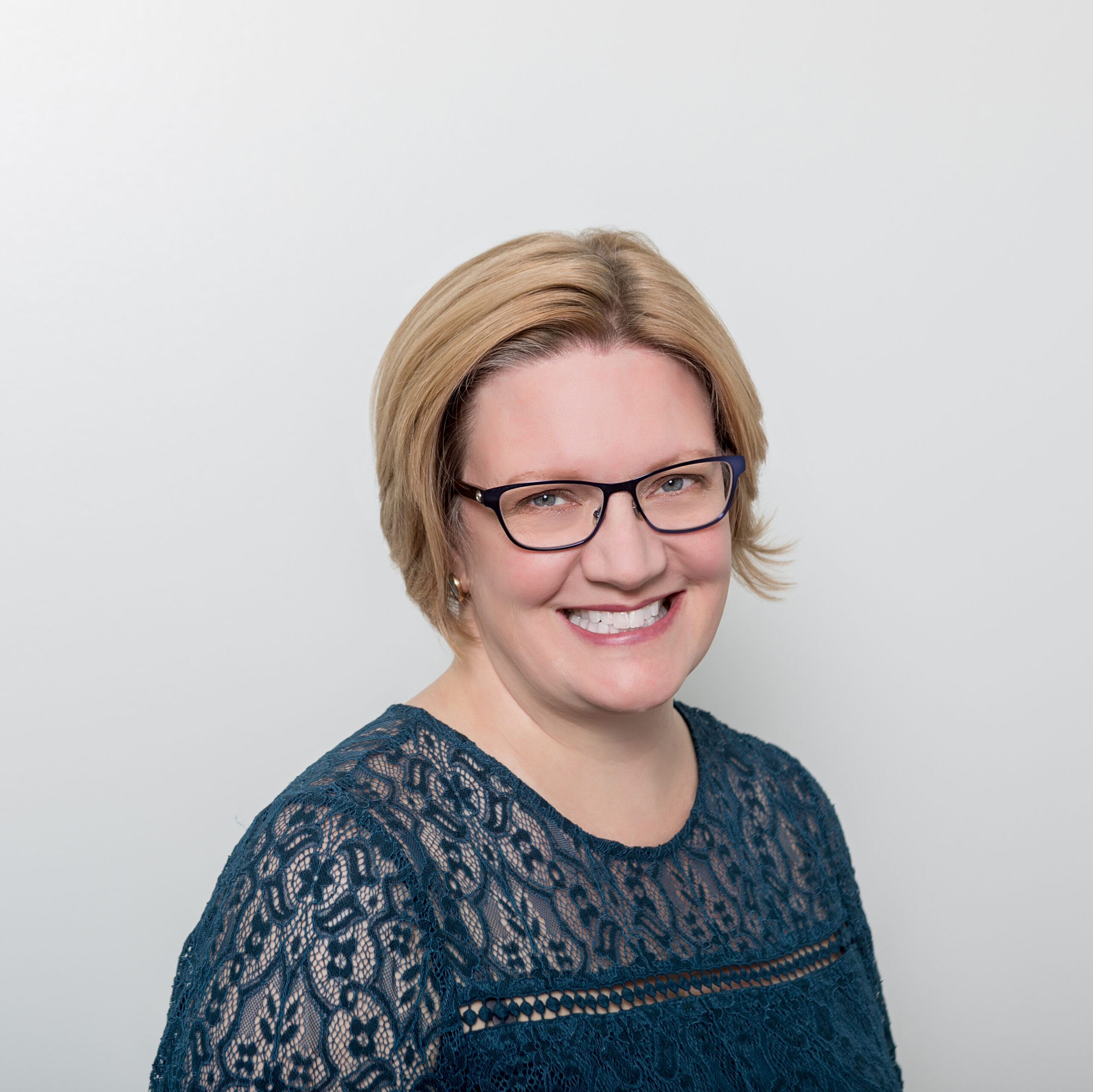 In solidarity and deep gratitude,
Nancy Withbroe
Vice Chair, ProInspire Board of Directors
---
Invest in Equity and Leadership
We are halfway to our goal of raising $70,000 for our 2020 Giving Campaign. Help us hit the goal with a donation today! Every gift counts to help us activate leaders to build a more equitable society. Click here to donate online. You can also write a check, make a donor advised fund contribution, and donate through corporate giving platforms. ProInspire is a 501(c)(3) nonprofit organization, and your contribution is tax deductible.