By: Bianca Anderson
ProInspire began working on this research in 2016, analyzing existing leadership literature, interviewing thought partners, and bringing forth our own knowledge on what it means to lead. We've identified 16 practices (previously called competencies) that connect to leading with self, people, organizations, and systems.
A key priority was to highlight how each practice connects to an inclusive work environment, where bias can show up, and how internal capacity building can foster racially equitable outcomes. We also challenged ourselves to identify how our views of leadership are shaped by white dominant culture and explored ways to shift our organizational culture to be more inclusive. Our hope is that these leadership practices will expand the status quo and support leaders at all levels in creating inclusive environments, advancing racially equitable outcomes, and sustaining impact within an organization.
When I joined ProInspire, I was asked to bring my lived experience, knowledge, and perspectives to the leadership practices. This caused me to consider how aspects of my identity and lived experience inform my approach to leadership. As a Black woman, many of the initiatives and projects that I am most passionate about are directly connected to my personal wellbeing and inequities within my community. As many women of color in the social sector know, the personal is political and professional.
Due to systemic inequities, racial and gender disparities, socio economic barriers and the lack of representation in positions of power, women of color in our sector do not have the luxury of disengagement. Internal and external inequities disproportionately harm us, often in life altering ways. Applying a critical consciousness to inclusive leadership practices provides an opportunity for deep transformation and sustainable change to occur. This type of iterative change requires time and the commitment to bring one's full self and sense of identity to work. Leaders who develop their critical consciousness are intentional about demonstrating their commitment to inclusion through their behaviors and actions within the organization and beyond.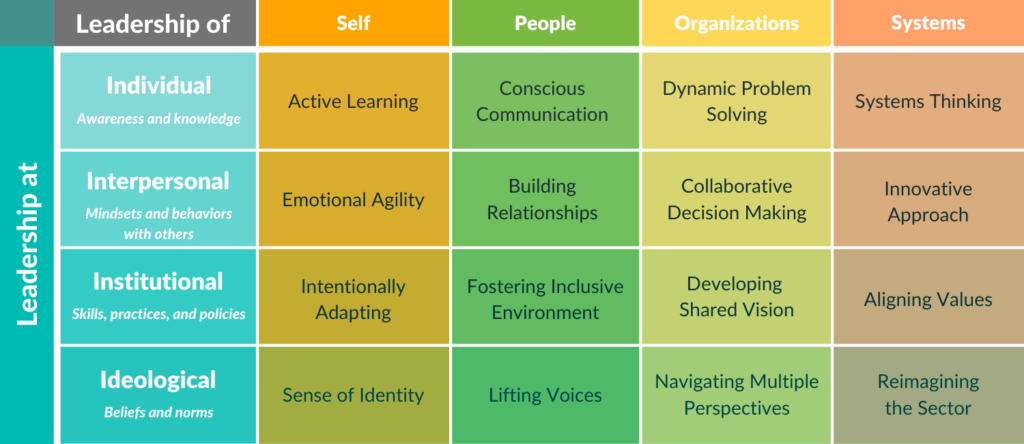 Over the past few months, we have looked at each of the sixteen practices and identified how they can support leaders with disrupting racism at the internalized, interpersonal, institutional, and ideological levels. Our current thinking is a "matrix" that shows how the sixteen practices connect to the four levels of structural oppression.
This leadership matrix also builds on the concepts of acquired and adaptive leadership development.
Acquired development is capacity building that increases what we know and informs our actions.
Adaptive development changes who we are, what we believe about the world and ourselves.
The Stagen Social Change Leadership program reminds leaders that, "adaptive development occurs when leaders increase their cognitive, emotional and social capacity." For leaders who seek to create and sustain more equitable outcomes, "adaptive development has significant implications for problem solving, conflict management and decision making."
For example, leading through the level of self, encourages deep inner work, self awareness and an ongoing learning and unlearning process. Active learning may include actively "unlearning" dominant norms. When we are personally engaging in the process of active learning we may experience a need to heal in community, to build relationships with folks who demonstrate that they value non dominant norms, as well. It is by becoming more self-aware and developing one's critical consciousness that we build the emotional flexibility needed to hold space for the complex emotions of people within the organization and community. The practice of active learning supports emotional agility, and emotional agility inspires the intentional adaptation of policies and practices at the institutional level. These policy shifts have the potential to motivate a deeper desire to establish more inclusive norms and divest from norms that maintain exclusion.
Similarly, as one leads by working with people, we are reminded that communicating with a critical consciousness and demonstrating an understanding of power and privilege is essential to creating trusting interpersonal relationships. Conscious communication supports how relationships within the organization are developed. Supportive diverse relationships are an asset to any social sector organization and fostering inclusive relationships must be prioritized by the organization in both policy and practice. This strategy has the potential to redistribute power by lifting voices and reframing narratives.
Both of these examples demonstrate the iterative nature of this work, as opposed to a more linear journey. By shifting our leadership model from competencies to practices, we hope to communicate that building an inclusive environment and sustaining race equity work is a journey and not a destination. In many ways the word "competency" communicates a level of mastery and completion.We hope the term "practice" will communicate an approach or way of being that leaders apply to their specific style, strategies and skills. This asset based approach has been informed by work from various members of the ProInspire team, our advisors, and from the lived experiences of leaders of color within our community.
Questions we are currently exploring:
How the leadership practices are even more relevant in periods of crisis, which creates an opportunity for change?
How might these immediate actions support our long term goals?
Where is our growing edge, uncomfortable growth?
How can these leadership practices support leaders of color with naming their own leadership styles that may not be seen as "leadership" because they don't fit the dominant norm?
Does the term "emotional agility" effectively connotate navigating emotions through mindfulness, healing and inner work?
We envision leadership practices that are holistic and inclusive, both leadership and Inclusion at all levels. We offer these practices as a foundation for leading in ways that will build, sustain and support more equitable outcomes within organizations. There are many possibilities for the leadership model moving forward. We plan to publish our research this Fall. We are currently using a self assessment and a self reflection tool in our work with individuals and organizations. We'd also like to build a 360 survey and align our training modules to reflect these practices more explicitly. We are currently collecting feedback and welcome your ideas as we move this work forward.