Program Overview
The ProInspire Leadership Institute: Managing People and Power or PLI is a two-day immersive workshop designed to engage people and project managers in ProInpsire's leading self and people practices for Race Equity Impact. Prepare to explore and deepen your race equity awareness and analysis with practical tools and strategies to shift your mindset to accelerate race equity in your role.
Over the course of two days, participants will build connections and relationships with other social impact leaders while engaging in targeted learning, sharing, and skills building.

PLI has encouraged me to think more about how I can support my colleagues on my team to develop through feedback and coaching. Both personally and professionally, the PLI program has driven me to be a more effective listener and help others solve their problems.
You should register if:
You want to participate in a leadership development program that infuses a race equity lens into its curriculum
You want to become a more effective leader and increase your self-awareness
Develop your leadership style to take a personalized approach to meet the needs of others within your sphere of influence
You are managing people or projects and want to build authentic, impactful connections in virtual space with one another
You enjoy exploring various digital tools and using virtual platforms for learning, reflection, and interaction
Having a mix of in-session and before/after session learning opportunities energizes you
You are looking for a blend of analysis and action steps to apply in your day to day work
Program Dates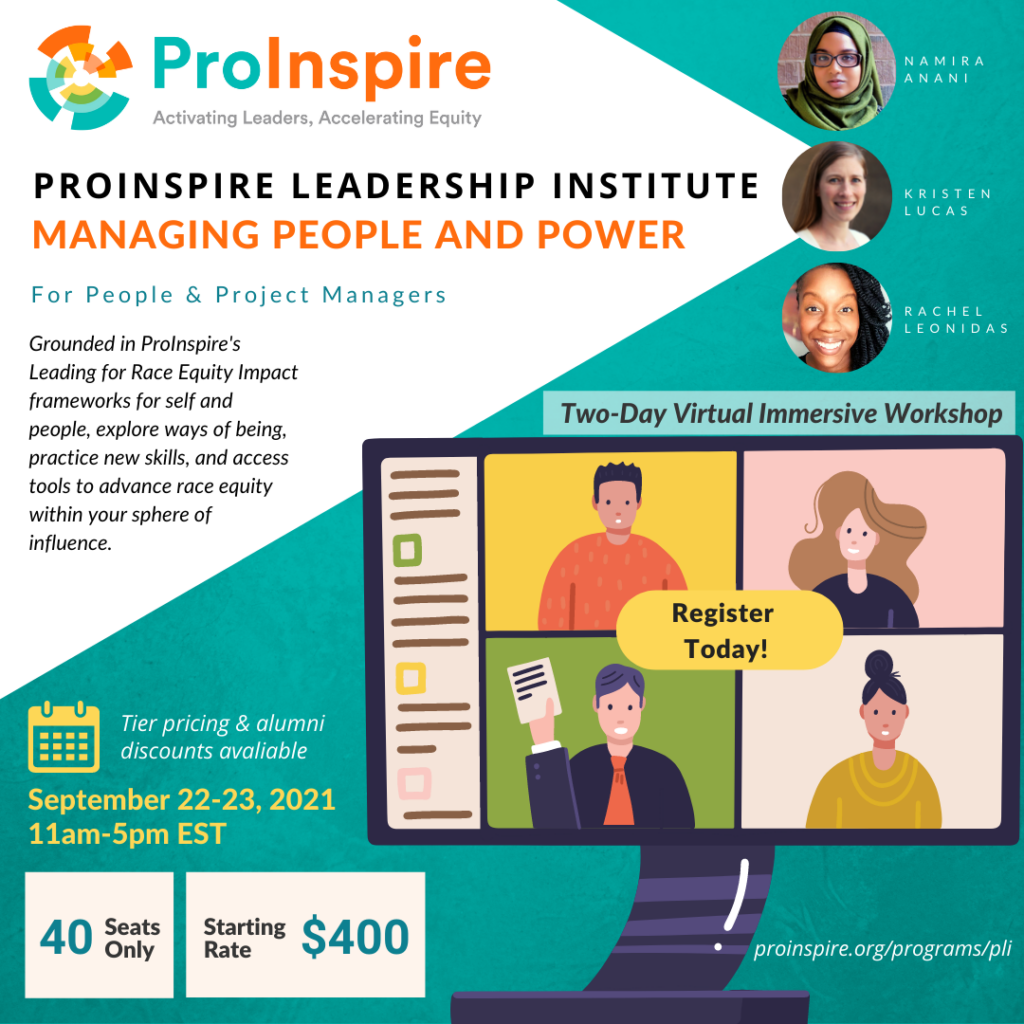 Fall 2021
Wednesday-Thursday September 22-23, 2021
11 am to 5 pm EST
*

We are currently at capacity. Interested participants can join the waitlist to be notified as seats become available.
Spring 2022
*Stay tuned for more "Leading for Race Equity Impact" courses being launched in 2022*
Program Structure
ProInspire Leadership Institute participants will engage in two full-day consecutive workshops to develop key competencies and core skills needed to achieve greater social impact and further advance individual career growth. Participants are from all levels within an organization and serve in different roles.
During the immersive, they will establish a network of support and engage with their peers in coaching and skill practice. After the program ends, participants will have the option to participate in webinars on leadership development topics and join the growing and vibrant ProInspire Network for continued opportunities for learning, growth, and connection.
Program Outcomes
Greater clarity on who you are as an individual and as a leader and a better understanding of how that influences your approach to your work
Building increased emotional agility, trust, and authenticity in your role as a manager
Exploring and practicing communication practices like feedback to positively shift others experiences in equitable ways
Building a network of peers to support professional growth and cross-sector learning
PLI impacted me by connecting me to a room of valuable and diverse professionals in a space that really allowed us to build fruitful and lasting relationships that would otherwise not organically occur.
Registration Process
Program Fees:*
$600 (rate per participant from organizations with a budget of 5 million+)
$475 (rate per participant from organizations with a budget of 2.5-5 million)
$400 (rate per participant from organizations with a budget less than 2.5 million)
$325 (rate per participant from unaffiliated organizations; *scholarship code needed)
$250 (alumni rate; discount code needed)
*Partial scholarships are available for participants unaffiliated with an organization, contact Namira Anani at [email protected] for scholarship information.
*50% of the costs to deliver PLI are covered by the program fee. The remainder is subsidized through generous support from the American Express Foundation.
Payment Options: Program fees are due upon registration. Payments can be made via credit card.
Sponsoring Participants From Your Organization
Many organizations choose to sponsor multiple PLI participants as part of their professional development support of employees. Feedback from partners indicates that having multiple participants attend together adds significant value to the organization. If your organization is interested in sponsoring multiple participants, please contact Namira Anani at [email protected]