"Self to Systems" Learning Series 2023
Class is back in session!
Join us for our free 2023 "Self to Systems" Learning Series! Through four 45-minute sessions in October and November, journey with ProInspire Director Namira Anani and additional guest hosts through our "Self to Systems" Leadership Model for Race Equity Impact.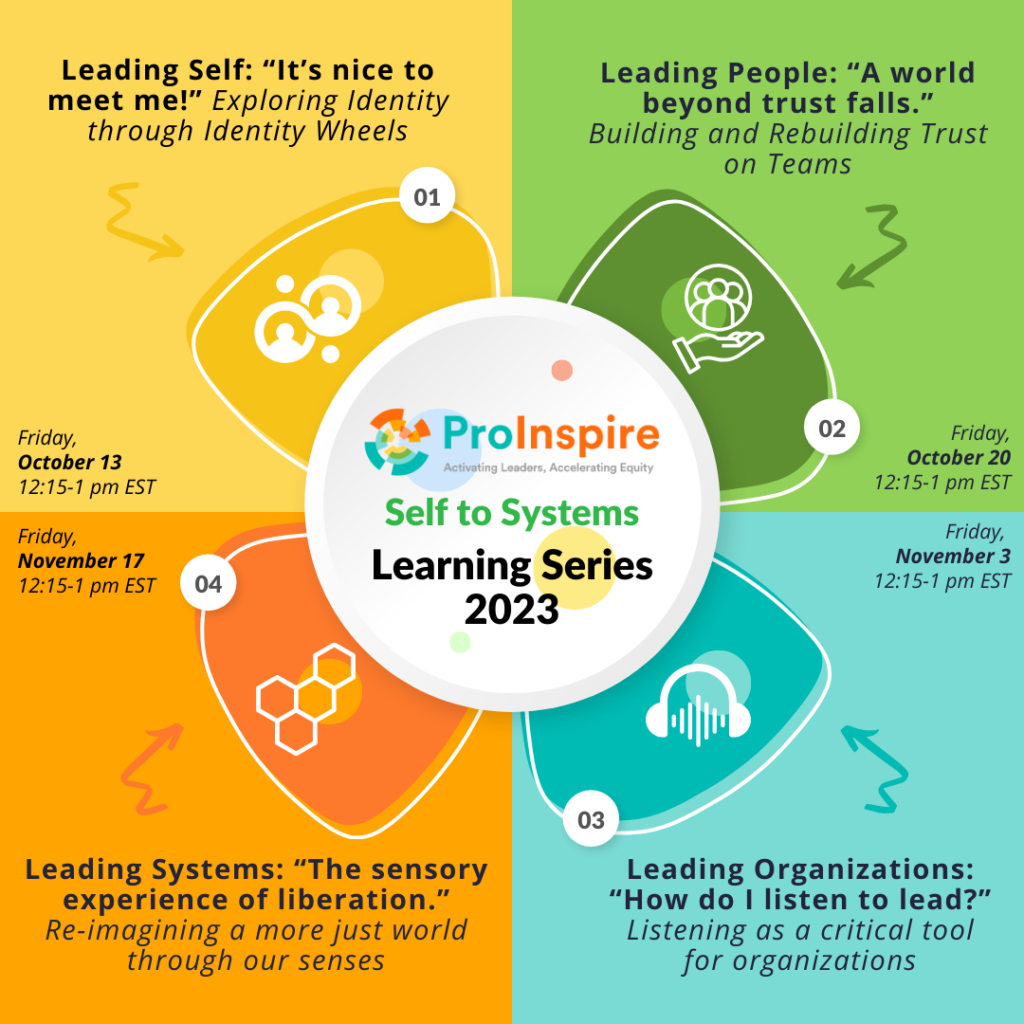 In each interactive session, we will tap into different creative modalities as we walk through our Leadership Model – from collaging to metaphors – and share practical tools to deepen your racial equity analysis.
This year, our series is free and open to our entire network, and we welcome and encourage you to join all four sessions. Register for a session today!
We'll be using Zoom for all four sessions. Sessions will be interactive and you are welcome to join on/off camera. Expect to engage in individual reflection, limited written communication through chat/digital tools, and some small/large group conversation. Please note any accommodation requests/needs in our registration form.
Session Dates and Topics
Registration is now closed for Leading Self.
Registration is now closed for Leading People.
Registration is now closed for Leading Organizations.
Leading Systems
Friday, November 17, 2023 from 12:15-1 pm EST
Session 4: "The sensory experience of liberation."
We will reimagine a more just world through our senses.
Registration Process
Cost
Sessions are free in 2023 for these learning sessions! We encourage attendees to make a donation of $65/session or $250/series for Zoom space, digital tools, and guided facilitation. However, this is not required in order to be part of the session space. You can make an optional donation below.
Haven't read our Self to Systems publication yet?
Do you have any questions? If so, please reach out to us at [email protected].