We believe that an equitable and just society is in our reach — but creating it will require all of us to expand our thinking on leadership, equity, and the future of social impact work. Now is the time to look ahead and understand the assets we already have, what opportunities we need to create, and how we want to approach social impact work over the next 10 years.
The ProInspire Summit is an opportunity to gather with leaders at all levels across the social sector to share our collective wisdom and experiences as we envision the future we hope to create. Featuring three energizing speakers and using the unconference format to co-create our agenda, this day-long convening will provide space for participants to learn from and inspire each other as we pose questions, challenge assumptions and existing models, and share ideas about leadership, equity, and the future of social impact work.

Our goal is for you to leave with a clearer understanding of your role in realizing our shared vision, greater confidence to take action, and stronger connections to build your network and maximize your impact. Bring your energy, your openness, and your ideas for discussion topics, and we look forward to seeing you on June 13th!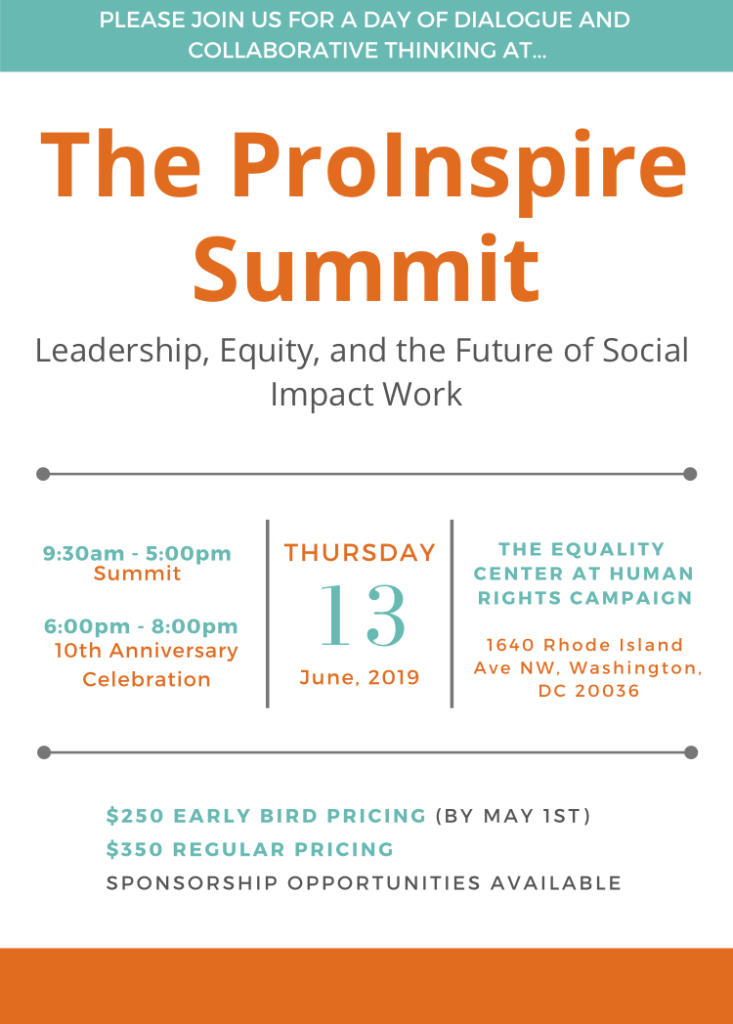 Logistics
Date and Time
All events will take place on Thursday, June 13, 2019:
8:30am-9:30am: Registration
9:30am-5:00pm: ProInspire Summit
5:00pm-6:00pm: Social Hour (see below)
6:00pm-8:00pm: ProInspire 10th Anniversary Celebration
Location
Equality Center at Human Rights Campaign
1640 Rhode Island Ave NW
Washington, DC 20036
(by 17th St NW and M St NW).
Tickets
$250 Early Bird Pricing (by May 8th)
$350 Regular Pricing (Sponsorship Opportunities Available)
$50 Celebration Only (Learn more here)
Agenda
| Time | Component |
| --- | --- |
| 8:30-9:30am | Registration, Breakfast |
| 9:30-10:45am | Welcome, Speaker, Marketplace of Ideas |
| 10:45-11:00am | Transition, Coffee Break |
| 11:00-11:50pm | Round 1 |
| 11:50-12:05pm | Transition |
| 12:05-12:40pm | Speaker, Call for Ideas |
| 12:40-1:50pm | Lunch |
| 1:50-2:40pm | Round 2 |
| 2:40-2:55pm | Transition, Coffee Break |
| 2:55-3:45pm | Round 3 |
| 3:45-4:00pm | Transition |
| 4:00-5:00pm | Share-out, Speaker, Closing |
| 5:00-6:00pm | Social Hour |
| 6:00-8:00pm | 10th Anniversary Celebration |
Attending Organizations
AchieveMission
Ascena Retail Group
Baltimore Corps
BoardSource
Celestial Consulting
Center on Budget & Policy Priorities
Charles and Lynn Schusterman Family Foundation
City Year
Communities In Schools
DC Scores
EdFuel
Empower Impact Consulting
Faith in Action
Flourish TMS
FSG
FundED Strategies
GlobalGiving
Goodwill Industries International
GreenLight Fund
iMentor
Independent Sector
Institute on Taxation and Economic Policy
JCF Coaching
Jefferson Consulting Group LLC
KaBOOM!
Leadership for Educational Equity
Management Assistance Group (MAG)
Management Leadership for Tomorrow
Memphis Medical District Collaborative
Meyer Foundation
National Human Services Assembly
Omidyar Networks
Pomegranate Group, Nonprofit Consulting
QLatinx
S-Squared Consulting
SGLynn Consulting, LLC
Tai D. Coaching and Consulting
The Annie E. Casey Foundation
The Boston Foundation
The Center for the Study of Social Policy
The Opportunity Network
The Thrive Advisory
The William and Flora Hewlett Foundation
Third Sector Capital Partners
Unbrand Consulting
University of Notre Dame
Wayfinding Partners
Weissberg Foundation
WETA TV
Frequently Asked Questions
Still have questions regarding The ProInspire Summit? Visit our FAQs page for more information.