We believe that an equitable and just society is in our reach — but creating it will require all of us to expand our thinking on leadership, equity, and the future of social impact work. Now is the time to look ahead and understand the assets we already have, what opportunities we need to create, and how we want to approach social impact work over the next 10 years.
The ProInspire Summit is an opportunity to gather with leaders at all levels across the social sector to share our collective wisdom and experiences as we envision the future we hope to create. Featuring three energizing speakers and using the unconference format to co-create our agenda, this day-long convening will provide space for participants to learn from and inspire each other as we pose questions, challenge assumptions and existing models, and share ideas about leadership, equity, and the future of social impact work.

Our goal is for you to leave with a clearer understanding of your role in realizing our shared vision, greater confidence to take action, and stronger connections to build your network and maximize your impact. Bring your energy, your openness, and your ideas for discussion topics, and we look forward to seeing you on June 13th!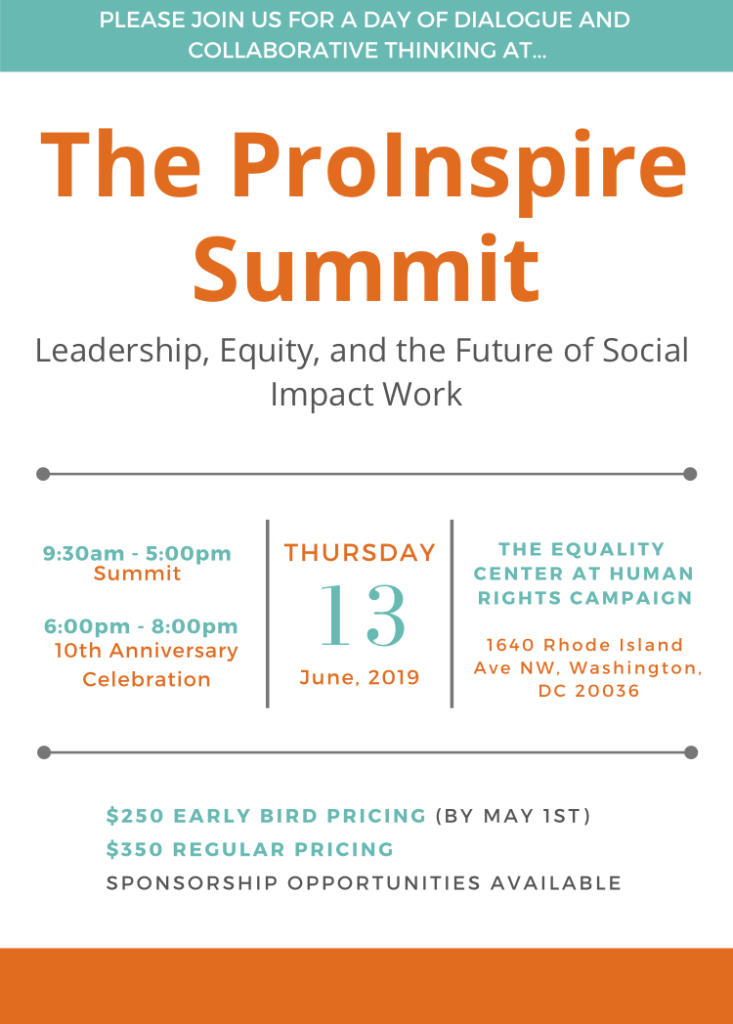 Frequently Asked Questions
Logistics
What is the date and time of the ProInspire Summit and Celebration?
All in-person events will take place on Thursday, June 13, 2019:
8:30am-9:30am: Registration
9:30am-5:00pm: ProInspire Summit
5:00pm-6:00pm: Social Hour (see below)
6:00pm-8:00pm: ProInspire 10th Anniversary Celebration
What is the location of the ProInspire Summit and 10 Year Celebration?
All in-person events will take place at the Equality Center at Human Rights Campaign, 1640 Rhode Island Ave NW, Washington, DC 20036 (by 17th St NW and M St NW).
What transportation options are available to get to the event space?
We recommend using public transportation or rideshare options (e.g. Uber or Lyft). The closest Metro stops are Dupont Circle and Farragut North (red line) or McPherson Square and Farragut West (blue/orange/silver lines), and many buses stop within a few blocks. If you choose to drive, there is metered (but time-restricted) street parking available, as well as parking garages located 2-3 blocks away at 1140 Connecticut Ave NW, 1750 St Matthews Ct NW, 1500 Massachusetts Ave NW, and 1625 Massachusetts Ave NW.
Will meals be provided?
We will provide food and beverages throughout the day. Your registration includes all hot and cold drinks (coffee, tea, water, soft drinks) and a continental breakfast, lunch, and snacks during the Summit day. During the 10th Anniversary Celebration we will enjoy beverages (beer, wine, and soft drinks) and an assortment of appetizers.
Registration, Pricing, Tickets
What is the ticket price?
Our early-bird price of $250 is available through May 1, and our standard price of $350 will be offered from May 2 to June 12, or until the event sells out.
I have a conflict during the day but would like to attend the 10th Anniversary Celebration. Can I join for just that part of the agenda?
Yes. The cost to attend the Celebration is $50. You can register for the Celebration here, and you are welcome to join for the Social Hour between the two events.
I can only come for part of the Summit day. Do you offer half-day registration pricing?
No. We would love for you to join us when you can, however we do not offer discounted pricing based on the length of time you can attend. We do offer a discount for early registration before May 1st, and we also have special pricing if you plan to only attend the 10th Anniversary Celebration. Click here to see those options.
Are there sponsorship opportunities available?
Yes. Please contact Monisha Kapila ([email protected]) for more information on how to sponsor the ProInspire Summit.
I've registered for the Summit but can no longer attend. What is the refund policy? Are there sponsorship opportunities available?
We're sorry that we can't provide a refund if you can no longer attend, but we invite you to transfer your ticket to a colleague who is interested. Please reach out to us at [email protected] if you plan to make a change or have any questions.
Accessibility
What time will registration be open and what do I need to bring?
Registration opens at 8:30am and we encourage all participants to arrive by 9:20am. We'll ask you to confirm your name/organization when you check-in, and it may be helpful to have access to your registration confirmation in case we have any issues.
Can you provide accommodations to support my participation?
Yes. The event is all on one level, there are gender neutral restrooms available, and there is a wellness room you can use if needed. The Equality Center space should be able to accommodate additional needs. Please email us at [email protected] with specific requests so we can best support you.