This #GivingTuesday- We're Saying Thank You!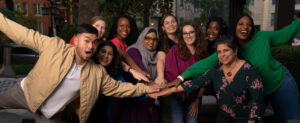 Your unwavering support and investment in our mission and vision of ProInspire have helped us expand our capacity to activate leaders and accelerate racial equity. Last year on #GivingTuesday, you responded to our appeal for support and helped us raise $42,000 to improve our internal capacity and increase our reach.
We know that the diverse and annual donations ProInspire received from donors like you give confidence in the collective power of our work. Your support elevated our work and positioned us as one of 286 organizations to receive a multi-year unrestricted gift from philanthropist MacKenzie Scott.
This year, we want to show our appreciation by inviting you to join our Commit to Shift challenge. In December, we are publishing Self to Systems: Leading for Race Equity Impact. Through a four-part blog series, members of the ProInspire team will unpack our model's Core Commitments for racial equity. Throughout the month, you will be challenged to reflect on and commit to practices to advance racial equity- right in time for the new year!
---
Here's why we have gratitude for you and our amazing community of supporters…
We Doubled in Size
We did it! Our organization doubled in size this year, expanding our capacity to deliver training and tools to the social sector. We cannot overstate how your support of ProInspire served as seeds that accelerated our growth. As a result, we have a formidable team ready to hit the ground running in 2022 to shift leadership practices and norms to advance racial equity.
We're Deepening Our Work With Leaders of Color
We're learning from leaders of color! In 2020, we launched Catalyst Collective, a community of practice for senior leaders of color. Throughout this year, we created space for senior leaders to hone their authentic leadership and shift power by bringing the dreams, desires, and development of leaders of color to the forefront. We're listening to the amazing leaders in this community and responding to the needs of the cohort as they navigate the personal and structural experiences that leading nonprofit organizations often create. The program will culminate with an in-person convening in March 2022 and we are starting to plan a model for future cohorts.
We're Delivering Our Research
Our influence is growing! This year you helped us reach almost 2,000 sector leaders, board members, and funders through speaking engagements, custom programs, and trainings focused on racial equity and leadership. We're excited for the upcoming release of Self to Systems: Leading for Race Equity Impact and your participation in our Commit to Shift challenge through our four-part blog series.
Thank you again for helping us double, deepen and deliver! Together, we forge ahead in our mission to activate leaders and accelerate equity towards a society free of systemic oppression where all people thrive.
---
Here's how you can continue to fuel our work through the

giving season

.
Make a Donation. Invest in ProInspire to help us shift the future of the social sector towards racial equity. Click here to donate online. You can also write a check, make a donor advised fund contribution, and (see below). ProInspire is a 501(c)(3) nonprofit organization, and your contribution is tax deductible.
Support Small BIPOC-Led Nonprofits. Just as your donations to ProInspire have made a big impact to fuel our growth, we know that small organizations that are led by Black, Indigenous, and People of Color receive less funding for their work.
Corporate Matches. Make your contribution go even further! Check if your employer matches charitable donations and let us know if you need any documentation for the match.
Spread the Word. Share our Commit to Shift campaign through Facebook, Twitter, LinkedIn, and other social media outlets. Here are some sample posts:

I am taking the Leading for Race Equity Impact: Commit to Shift challenge with @ProInspire. Commit to leadership practices that advance racial equity. #Commit2Shift
Nonprofit leaders must Commit to Shift in order to accelerate racial equity and justice. Join the challenge with @ProInspire as we prepare for 2022! #Commit2Shift
If you would like to write a check, make a donor advised fund contribution, or donate through corporate giving platforms, here is the information:
ProInspire
P.O. Box 101256
Arlington, VA 22210

EIN: 30-0543802