Succession is Not a Dirty Word
Let's talk about succession planning. Given my Founder identity, I often think about how the organization
thrives

beyond me.

This question isn't exclusive to Founders, as we know that Executive Director transitions in general can lead to instability in organizations. But when I bring up succession with leaders in nonprofits and foundations, voices come to a hush. It's as if I said a dirty word, and people aren't sure how to react.

I am here to say…

SUCCESSION IS NOT A DIRTY WORD

In fact, we need to reframe succession as sustainability.
Now succession wasn't always something I was comfortable considering. As a Founder, I believed that I had to build a strong foundation for the organization before moving on.
I have been actively thinking about succession planning for the past four years. In 2018, I had my first sabbatical and real break since I started ProInspire in 2009. I returned from my sabbatical and shared with our Board that I still had more work to do in the organization, but I would be ready to move on within five years.
As I started to engage our Board in succession planning discussions, they advised me to:
Integrate shifts in ProInspire's work to focus on racial equity based on our internal work.
Strengthen ProInspire's business model because strong financials support a smooth succession.
Identify potential successors within the organization, and as I hired for new roles.
In 2019, I focused on all of those things. We updated ProInspire's theory of change, naming equity as the result of our work. We made organizational changes to shift our business model – including ramping up our earned revenue work with nonprofits and foundations. I also considered succession when hiring a new Director, which was how Bianca Anderson joined us (and eventually became co-CEO).
In 2020, our Board Chair (Isabelle Moses) led the Board to create our first succession policy that included guidelines for how the Board should act in case of:
Temporary or Unplanned (Short-Term) Absence
Planned or Unplanned (Long-Term) Absence
Permanent (planned and unplanned) Absence.
In 2020, we also focused on building relationships across Board and staff. Our Vice Chair at the time and now Chair (Nancy Withbroe), wrote about this as an important step in our Co-CEO planning process. We had our first joint Board/Staff discussion about succession planning. The Board heard directly from staff about some key questions involving staff engagement, centering equity, and implications on organizational culture.
It was important for the Board to hear from staff about some key questions.
ProInspire decided to move to a shared leadership model in 2021, and Bianca Anderson and I became co-CEOs. A key reason for the shift to a shared leadership model was to support succession planning. We wanted to reimagine approaches to succession in ways that could support BIPOC leaders, and creating a structure that allowed for overlapping tenure felt important. Now we are working to institutionalize the co-CEO structure beyond succession, and will share more about that next year.
Some lessons from my learning around succession:
Talk About It: Lets normalize conversations about succession with boards, staff, funders, and more. Currently, many Executive Directors (EDs) fear talking about succession as it may raise concerns that they are going to leave, which could risk funders scaling back support or boards pushing the leaders out. Well EDs are going to leave at some point – it's better for the leader and the organization to talk about it and be ready for it.
Take Your Time: A thoughtful succession process takes years, not months. Boards that recognize this can encourage a longer, intentional process. This also gives time for a scaffolded approach to share responsibilities and prepare staff for transition. At ProInspire, we have been able to shift responsibilities through the creation of new roles (like Chief Operating Officer) and processes (like our business development team). I appreciate other examples of leaders who are taking their time such as Bob Ross, CEO of The California Endowment, who shared in 2022 that he will be retiring in 2024.
Tend to Fears: Organizational change always brings fears, especially a shift in leadership. As the founder who will eventually leave, I have fears about my identity, relevance, and relationships when I transition. Fortunately, I am now participating in a Leadership Transition cohort for nonprofit leaders preparing to transition. Bianca and I work with Lupe Poblano as our executive coach – he supports each of us individually and both of us together in our co-CEO relationship. The coaching support enables us to be open about our fears and to get support for how to navigate them. We have also gathered input from our staff and board about how they feel about the multiple transitions happening within ProInspire, and are using that feedback to make shifts.
Succession is not a transactional process, it is truly an opportunity for transformation.
I have been involved with organizations that considered many different options during succession, including shifting to a shared leadership model, bringing in an interim structure, exploring mergers, and sunsetting the organization. For new leaders to be successful, they need to know the organization is ready for transformation. As a founder, I try to make clear my desire for the organization to transform as part of succession. By being transparent, taking time, and tending to fears, you open the organization up for greater transformation.
Grounded in our four Core Commitments, we are exploring what it mean to thrive – as leaders, as an organization, and as a sector. Monisha's blog is the first of four in our Thrive Through the Season and into 2023 campaign. Learn more about the Core Commitments by downloading our Self to Systems: Leading for Race Equity Impact and sign up for our newsletter for our emerging thoughts, highlights, and insights you can take into the new year.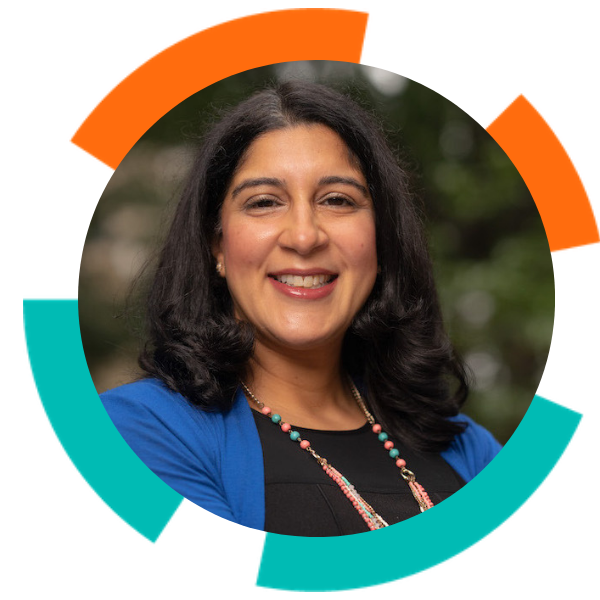 Founder & Co-CEO, ProInspire