In honor of our 11th anniversary, we are publishing sections from A Decade in the Making: ProInspire's Lessons on Leadership and Equity to share our journey on this blog. Below you will find our first blog in the series, the Letter from our CEO, Monisha Kapila. To learn more about our learnings from 2019 and areas of work for 2020, register for ProInspire's 2020 Impact Call on March 11th from 12:00- 1:00pm EST. This call will give the ProInspire community the chance to engage directly with our team and hear more about our exciting future.
---
From the CEO
2019 marks ten years since I launched ProInspire, and it amazes me how much has happened in that time. In the decade since our founding, ProInspire has had the opportunity to work with more than 5,000 leaders and 500 social impact organizations to advance leadership and equity. While our work is ongoing, our team is using this milestone to reflect on how the organization has evolved over time, where we go from here, and what we have learned along the way. In sharing this, I hope that other individuals and organizations can see themselves in our successes and challenges — and gather ideas to inform their work moving forward.
A BRIEF HISTORY OF PROINSPIRE
I launched ProInspire in 2009 in response to the challenges I saw facing individuals across the nonprofit sector. By that time, I had worked in multiple nonprofit organizations and private-sector companies. I was struck by the fact that companies like Capital One and Andersen had internal universities dedicated to supporting staff's professional growth and development, while most nonprofit organizations had no mechanism to support people on the inside. I also knew that despite strong interest among my peers to work in the nonprofit sector, structural barriers such as low pay and expectations for prior nonprofit experience kept them out. ProInspire sought to address these barriers by launching a fellowship to expand talent pipelines and recruit young business professionals to the sector.
By looking outside of traditional recruiting pipelines and processes, we found well-qualified, diverse candidates for the fellowship. Yet we learned from their experiences that this approach alone was not going to change organizations, and many of them left the sector within five years because the barriers still existed. This prompted us to evolve beyond talent pipelines, to support leadership at all levels with the launch of Managing for Success and the ProInspire Leadership Institute.
Our work shifted again in 2014, a year in which we witnessed several public killings of black men that stirred our country. A few weeks after Michael Brown was fatally shot by a police officer in Ferguson, Missouri, I joined a fellows training
and listened to them share how this event had deeply affected each of them and moved them to action. I asked whose organizations were providing space and openly talking about how this tragic event affected staff or connected to their
work in communities, and nobody raised a hand. I was stunned that not a single organization — including large, well-known nonprofits — had connected Michael Brown's killing with the structural racism central to their missions.
This was our wake-up call to move beyond diversity and inclusion and more deeply address the core issue of racial equity underlying so many of the challenges our sector seeks to address. Like many of our partner organizations, we started with a focus on the "fish" but have evolved to think more about influencing organizations and systems, or the "groundwater."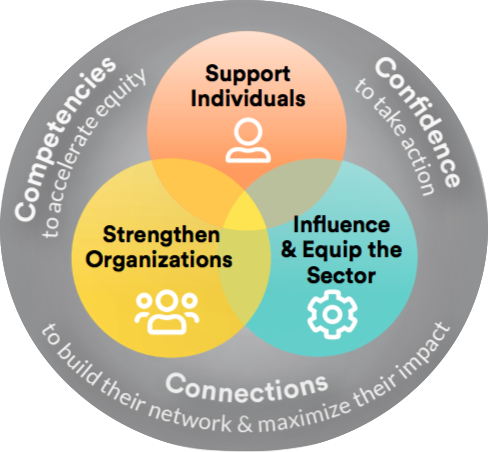 Our journey of getting clearer on how equity needs to be the result of our work accelerated in 2015, through a year-long program sponsored by the Annie E. Casey Foundation focused on ResultsCount® and racial equity. Through this, we co-founded Equity in the Center to shift mindsets, practices, and systems in the social impact sector to advance race equity. We have since deepened our internal work around race equity, shifted our external program work toward developing leaders and advancing equity, and updated our vision, mission, and strategies to reflect this sharpened focus. Ultimately, we believe that investing in leadership and equity in the social impact sector will strengthen organizations to advance systems change and accelerate impact for our most critical challenges. These efforts prepare us well for the next phase of our work.
SHARING THE LESSONS IN FUTURE POSTS
What you'll find in the following posts isn't a traditional report of impact with quick facts and quantitative data; it is the story of what we have learned in our first ten years and a record of who we are today. And, we hope, it will provide our community of supporters with valuable perspective and helpful insights as they consider their own role in creating momentum toward equity in this great ecosystem of the social impact sector. Our work would not be possible without the incredible support of individuals within our community, our partner organizations, and our philanthropic partners. The lessons that follow, and the impact they will continue to have on us, our community, and the sector, arose from your belief in our work. We dedicate this report — and our next 10 years — to all of you.

With gratitude and partnership,

and the ProInspire Team
---
This is the first of a series of blogs from A Decade in the Making: ProInspire's Lessons on Leadership and Equity. Check out the other blogs in the series: