In honor of our 11th anniversary, we are publishing sections from A Decade in the Making: ProInspire's Lessons on Leadership and Equity to share our journey on this blog. Below you will find our second blog in the series and our first lesson: Be Intentional about Setting the Stage for Learning and Growth. To learn more about our learnings from 2019 and areas of work for 2020, register for ProInspire's 2020 Impact Call on March 11th from 12:00- 1:00pm EST. This call will give the ProInspire community the chance to engage directly with our team and hear more about our exciting future.
---
Lesson One: Be Intentional about
Setting the Stage for Learning and Growth
ProInspire programs bring people together to advance leadership and equity. Whether they participate in a one-day convening, a two-day training, a months-long cohort or a yearlong fellowship, participants across all of our programs express appreciation for the space to come together, discuss important topics, and learn from each other. Leaders in nonprofits simply aren't given enough time and resources to put aside their daily work and gather for learning, growth, and connection; when given the opportunity, we have to make it count.
When we bring leaders together, we think about the arc of learning, creating conditions for connection and change to occur, and how this can lead to action. The following chart highlights some of the key considerations and program elements we have found to spark meaningful connection and learning among leaders at all levels.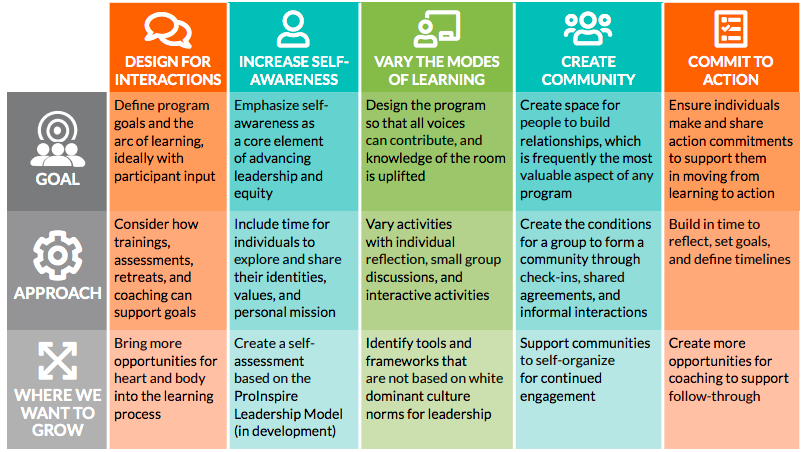 Setting the Stage for Learning & Growth: ProInspire Leadership Institute and ProInspire Fellowship Program Examples
PROINSPIRE LEADERSHIP INSTITUTE
We launched the ProInspire Leadership Institute (PLI) in partnership with The Kresge Foundation, which engaged us to support rising leaders within its grantee network with the personal awareness, practical skills, and relationships to scale impact through their teams and stakeholders. Since 2016, ProInspire has conducted two-day workshops in multiple cities, reaching over 300 leaders from 160 organizations across Kresge's grantee network.
"I appreciated how much space we had to hear about the struggles and strategies of other leaders. It made the day more dynamic and engaging to hear such distinct worldviews."

– PROINSPIRE LEADERSHIP INSTITUTE PARTICIPANT
We leveraged learnings from the Managing for Success program in the design of PLI, and we incorporated key elements (designing for interaction, varying the modes of learning, creating conditions for community and action) that set the stage for growth towards the program objectives.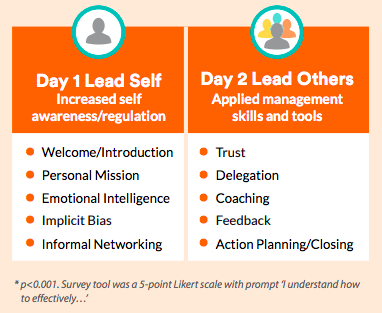 Despite initial concerns that the two-day, back-to-back program structure might impact participant learning relative to longer programs, evaluations conducted by Sharp Insight LLC demonstrated the new model's effectiveness through strong results. Across all measures of PLI objectives — including building trust-based relationships, giving clear and actionable feedback, and increasing awareness of implicit biases — mean scores significantly* increased in the desired direction from pre (3.78) to post (5.22).
We continue to refine PLI by incorporating a stronger focus on identities, how biases impact trust, and equity considerations when managing people, and will continue to leverage these program elements in future offerings.
PROINSPIRE FELLOWSHIP
Our first program was the ProInspire Fellowship in Washington DC, which we launched to help address talent challenges in the nonprofit sector — particularly nonprofits wanting a larger talent pool, increased diversity, and access to analytical skill sets. The fellowship focused on young business professionals in search of a meaningful career who may have overlooked nonprofit jobs because of expectations for unpaid internships or low entry-level pay. In 2012, we expanded the ProInspire Fellowship to the Bay Area and ran 2-3 cohorts of fellows per year. The ProInspire Fellowship focused on:
Recruiting and matching fellows and partner organizations
Conducting a rigorous selection process to identify a pool of finalists
Providing a robust professional development program to support the fellows' transition into the social sector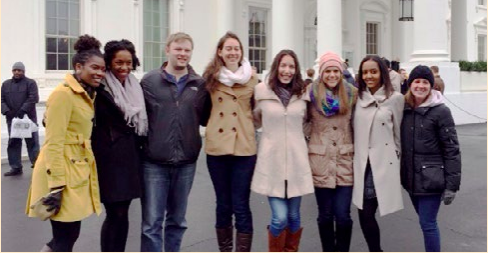 The program was beloved by fellows, who found it to be a life-changing experience, and nonprofits, who relied on it as a source for new and diverse candidate pools. While we sunset this program in 2018 (read more on this, here), learnings from the fellowship continue to inform many aspects of our work, particularly issue-focused fellowships (like the ProInspire Fellowship in Digital Finance), cohorts, and building community.
---
This is the second of a series of blogs from A Decade in the Making: ProInspire's Lessons on Leadership and Equity. Check out the other blogs in the series: